Richard E. Ames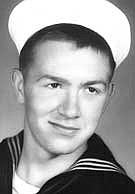 |
February 16, 2009 11:00 PM
Richard Emmett Ames, 67, died on Tuesday, Feb. 10, 2009 at his residence in Kalispell with family and friends at his side.
He was born in Kalispell on Sept. 24, 1941 to Earl H. and Dorothy (O'Brien) Ames. After attending Kalispell schools he entered the U.S. Navy. Upon completing his Navy tour of duty he chose sheet metal fabrication as his vocation.
Choosing to move to Alaska in the early 1980s proved not only to further his career, but gave him the opportunity to enjoy all his favorite outdoor activities. He enjoyed salmon fishing with his dog, Poe, in an air boat he designed and constructed himself.
Mr. Ames was preceded in death by his wife, Mildred Ames, and his parents Earl H. and Dorothy O. Ames.
He is survived by his two daughters, Ronda Ames and Rita Barnett – both of Libby; four grandchildren, Kyle, Kendra, Arlene, and John; and four great grandchildren; and two sisters, Ellen M. (Punky) Van Riper of Kalispell; and Patricia McFall and husband Dan of Corning, Calif.
A memorial service will be announced in the spring.   
Johnson-Gloschat Funeral Home is handling arrangements. For those who want to offer condolences and sign Mr. Ames's guest book, go online to: www.jgfuneralhome.com .
---