Loggers outlast Trojans with strong second half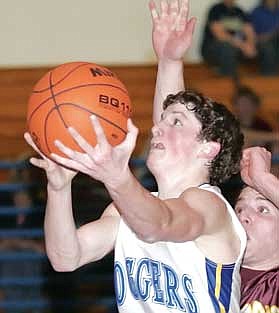 Paul Sievers/The Western News Conner Benson scores for the Loggers on Friday against Troy.
by
Brad Fuqua & Western News
|
February 16, 2009 11:00 PM
Coming out of the halftime break, the gate was wide open for either Libby or Troy to take control with a strong start. The neighboring schools had battled to a 20-20 tie over the first half in a nonconference tilt on Friday night.
The underdog Class B Trojans held a 10-point lead in the late stages of the first quarter before the Loggers settled down in the second. Libby's momentum carried over into the third and the home squad got that strong start in the second half to force Troy into a hole.
Although the Trojans put together a valiant effort in the fourth, Libby held on for a 42-37 victory before a packed Ralph Tate Gymnasium on Community Appreciation Night.
"We got careless with the ball and their shots started going in," Troy head coach Tony Smith said. "We just had a bad stretch; we were discombobulated there for five, six minutes. We just couldn't bring it together."
Each team showed impressive stretches of intense play, especially on defense. Baskets did not come easy inside over the first two quarters. Troy got out to the double-digit lead after hitting back-to-back-to-back 3-pointers on shots by Shado Garrett, Jesse Day and Aaron Palmer. Another Palmer bucket with 1:14 left in the first put the Trojans up, 13-3.
Libby responded with a 13-2 run that started in the final minute of the first and carried over midway through the second. Kelly May hit a 3 with 5 seconds left in the opening frame to give his team a much-needed spark.
The Loggers changed their mode of attack on pressure defense and the results were positive for the home squad – especially during that pivotal third.
"Troy is too good of a team … you can't overextend your pressure or they'll get a layup," Libby head coach Wally Winslow said. "The pressure in the third quarter was a little softer, a different look."
Libby outscored Troy, 19-7, over those 8 minutes. A good example of the Loggers' change in fortune was seen just a few minutes in. Alex Cislo hit for two and then on the in-bounds pass, Conner Benson stole the ball and scored on a quick layup.
By the time the fourth quarter had arrived, Libby held a comfortable 39-27 lead. However, that comfort level disappeared over the final 2 minutes of the game. The Loggers still held a 12-point lead on a May 3-pointer with 3:08 remaining. Libby wouldn't score the rest of the way.
Troy went on a seven-point run with hoops from Palmer, Garrett and Brian Hammrich – the last coming with 1:15 on the clock to make the score 42-37.
Both teams squandered opportunities the rest of the way. Libby missed on the front end of three straight 1-and-1 situations at the free-throw line while Troy failed to secure rebounds on two of those misses and turned the ball over on a double-dribble with 24 seconds left.
"The foul line has been a problem but we had two big offensive rebounds … those were huge," Winslow said. "We get another possession out of those to burn more clock."
Cislo got inside for a rebound with 43 seconds left and May followed with an offensive board on another foul-line miss with 38 seconds remaining. Troy's Garrett had a chance from beyond the 3-point arch with 9 seconds left.
"If Shado hits that 3 then it's a two-point game," Smith said. "We put Libby on their heels in the fourth quarter. We didn't quit. We were willing to get after it and play hard."
Libby scored just three points in the fourth quarter.
Benson led Libby scorers with 12 points and May added 11. Cislo worked his way into eight rebounds. For Troy, Palmer had a double-double with 14 points and 10 rebounds along with five assists – all game highs.
With the loss of T.J. Benson for the season because of a broken bone in his foot, Winslow is trying to further develop his bench. Players like Nate Broden and Garrett Craig – a sophomore that Winslow said did well against Troy – could provide valuable minutes. Beyond those two, guard Cree Maloney has filled the role of sixth man.
Troy recently got Hammrich back into the lineup and with players like Garrett, Palmer and Day capable of hitting big shots, the Trojans hope to make a little late-season noise.
Loggers 42, Trojans 37
Friday at Libby
Troy (37)
Kyriss 1 0-0 2, Garrett 2 1-1 7, Palmer 6 1-5 14, Day 2 1-1 6, Hammrich 4 0-1 8, Jones 0 0-0 0, Rebo 0 0-0 0, Powell 0 0-0 0. Totals 15 3-8 37.
Libby (42)
Benson 6 0-1 12, May 3 2-4 11, Fuller 1 0-0 2, Cannon 4 0-2 8, Cislo 4 1-2 9, Maloney 0 0-0 0, Craig 0 0-0 0, Broden 0 0-0 0. Totals 18 3-9 42.
Three-Pointers–Troy 4 (Garrett 2, Palmer, Day), Libby 3 (May 3). Rebounds–Troy 33 (Palmer 10), Libby 32 (Cislo 8). Assists–Troy 9 (Palmer 5), Libby 9 (Kyriss 3, Fuller 3). Total Fouls–Troy 12, Libby 13. Fouled Out–None. Technical Fouls–None.
---