Leon Max Hukill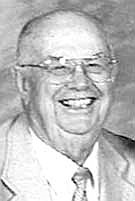 |
February 16, 2009 11:00 PM
Leon Max Hukill, 83, died Monday, Feb. 2, 2009 in Port Orchard, Wash., following a long fight with cancer.
He was born in Hamburg, Iowa on Nov. 4, 1925, the son of Tracy and Blanch (Kellogg) Hukill.
He graduated from Amphitheater High School in Tucson, Ariz. He worked for the U.S. Army Corp of Engineers as an inspector, retiring after 30 years.
He married Frances Stead on Oct. 26, 1946, in Tucson. The couple lived in many places while working on the Minuteman Missile Systems.  They moved to Libby in 1966 to work on Libby Dam and his last job was in Garlstedt, Germany, then retirement and back to Libby.
Mr. and Mrs. Hukill celebrated their 62nd anniversary last October in Libby.
He was a lifetime member of the Libby Saddle Club and was always hauling other kids' horses to the shows. He was a longtime member of the Libby United Methodist Church. He was also an avid gardener and was always willing to share his vegetables and raspberries.
He was a veteran of World War II, serving in the U.S. Navy.
He is survived by his wife, Frances, of Port Orchard; three daughters, Kim (Rick) Dupell of Port Orchard; Tamie Kellogg of Seattle, Wash.; Dawn Tabacchi of Poulsbo,  Wash.; and Holly (Dan) Dunham of Bonsall, Calif.; two sisters, Dorothy Douglass of Alaska; and Reba Lanning of California; and one brother, Thurman Hukill of Texas; five grandchildren, Bastion, Angela, Jeremy, Chelsea, and Madison; and five great-grandchildren, Justine, Jaden, Aries, Arianna and Anastazia.
He was preceded in death by his parents, Tracy and Blanch and two brothers, Paul and Dean.
No services were planned. Memorial contributions may be made to Wings or a charity of your choice.
---