Graham wins state wrestling title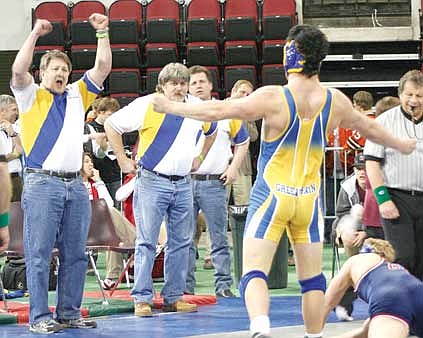 Darlene Hammons/The Western News Libby High School coach and dad Jay Graham, left, raises his arms in triumph following the 215-pound championship match victory by Justin Graham Saturday in Billings. Graham won by 4-0 decision over Kelly Houle of Columbia Falls, lower right.
by
Brad Fuqua & Western News
|
February 16, 2009 11:00 PM
Mission complete.
Justin Graham had the weight of the world on his shoulders heading into the 215-pound finale at the Class A State Wrestling Tournament on Saturday.
Graham was ranked No. 1 in his weight division so he competed in Billings with a big bull's-eye on his back. Graham is the little brother of a previous state champion and son of the head coach who would be mat-side for the final time. And Graham would be wrestling his rival from Columbia Falls – an opponent that had beaten him more than once in the past and battled him to close decisions during the regular season and at divisionals.
Graham does just fine under pressure, thank-you. The Libby High School senior went out with a bang with a 4-0 decision over Kelly Houle of Columbia Falls to win state.
Graham prepared for the finale in his typical, relaxed style.
"The more relaxed you are, the more energy you have," Graham said. "He (Houle) runs sprints back and forth; I can't do that. I get too tired."
Graham was so relaxed prior to the championship bout that he fell asleep. Graham said a wrestler from Hamilton woke him up when the championship round got up to 160 pounds.
"The first two periods were like any other we've had … battling on our feet," Graham said about the Houle match. "I just used horsepower and never gave up really."
Graham had just missed out on earlier chances to get on the scoreboard when Houle got out of bounds before takedown points could be awarded. He did record an escape for a 1-0 lead heading into the last period. Houle started down and Graham never let go.
At one point, Graham caught Houle in a cradle but officials ruled them out of bounds.
"I ended up turning him over anyway," Graham said. "The pin was there and I was looking at my dad – I can never hear what he says when I'm out there on the mat – I just waited for the clock to run out."
With the three nearfall points, the official score was 4-0.
"It was a good, close match; I'm proud of him," LHS coach Jay Graham said. "He wanted it pretty bad. It was a good way to end 23 years of coaching. I couldn't find a better way to go out than that."
Graham cruised into the finals with three pins, including a stick in 6 seconds over Browning's William Tidzump.
"The guy came out firing at my head and I gave him a bear hug and he just kind of crumpled," Justin Graham said about the quick pin.
Graham said he will be done with sports after competing in the Shrine Bowl. He plans to attend college, major in elementary education and hopes to return to Libby.
Seth Wright had an incredible run of his own at 171 pounds. Wright, who suffered from an inexplicable bout of memory loss in early January, came close to his own state championship. He dominated his first three opponents with three straight pins – all in 1:10 or less.
"He didn't have a point scored against him, he'd take the kid down, lock him up and pin him," Coach Graham said. "He wrestled well and it's so amazing considering that in reality he probably only got 10 practices in (since the memory loss). He wasn't scared of anybody out there."
In the finals, Wright led Polson's Brock Picard – a defending state champ – 3-0 early on. Picard countered, however, and Wright took a couple of long shots that didn't materialize. Picard ended up with a 7-5 decision.
"It could've gone either way," Coach Graham said. "He worked his butt off in that match."
Freshman Kyle Leir was the third medalist for the Greenchain with a fifth-place showing at 125 pounds. He won a close 7-6 decision over Laurel's Tommy Cooper in the fifth-place match.
"He was in the toughest weight class in A from top to bottom," Coach Graham said. "He beat a kid that had beaten him earlier … he had a good tournament for a freshman."
Libby's coach was also pleased with a few other freshmen who won matches, namely Tate Wilson (2-2 at 130), Dylan Berget (1-2, 140) and Josiah Coker (160, 1-2).
Senior Brandin Mills (Hwt, 2-2) juniors Kyle Sweedman (152, 2-2) and Cody Elliott (135, 2-2), and sophomore Dean Willey (171, 1-2) all won matches. Charlie Berget (145) and Evan O'Brien (189) each lost two straight.
Havre easily won the team race with 294.5 points. Belgrade finished second at 179 and Northwestern A's Ronan placed third at 134. The Greenchain ended up 10th with 86.5 points.
Class A State Wrestling Tournament
Friday-Saturday at Billings
Team Scoring
1, Havre 294.5; 2, Belgrade 179; 3, Ronan 134; 4, Corvallis 132; 5, Miles City 126; 6, Sidney 112; 7, Frenchtown 111; 8, Polson 104.5; 9, Dillon 87; 10, Libby 86.5; 11, Hamilton 84; 12, Laurel 80.5; 13, Anaconda 79; 14, Columbia Falls 70.5; 15, Lewistown 63.5; 16, Glendive 57; 17, Hardin 43.5; 18, Billings Central 24; 18, Whitefish 24; 20, Livingston 17; 21, Browning 15; 22, Butte Central 3.
Libby Results
125 – Kyle Leir (3-2, 5th) – Pinned Ben Metz, Frenchtown, 3:03; dec. David Preller, Miles City, 8-5; lost by maj. dec. Derick Singleton, Miles City, 11-0; lost by dec. Ryan Guenther, Belgrade, 6-3; dec. Tommy Cooper, Laurel, 7-6.
130 – Tate Wilson (2-2) – Lost by dec. Kelby Dorn, Hardin, 8-1; pinned JayDee Page, Frenchtown, 2:34; dec. Tate Lucus, Belgrade, 8-2; lost by dec. Keio Salmonson, Polson, 7-3.
135 – Cody Elliott (2-2) – Pinned by Jayme Kelly, Sidney, 4:51; pinned Seth Sewell, Belgrade, 3:40; dec. Shawn Whitman, Columbia Falls, 6-2; pinned by Garret Tennant, Glendive, 4:55.
140 – Dylan Berget (1-2) – Pinned by Clint Dunn, Sidney, 2:30; tech. fall over Logan Fulcher, Anaconda, 18-2; lost by maj. dec. to Rex Martin, Lewistown, 13-2.
145 – Charlie Berget (0-2) – Pinned by James Collins, Sidney, 1:02; lost by dec. to Sam Parke, Dillon, 2-1.
152 – Kyle Sweedman (2-2) – Pinned Gus Murdock, Hardin, 1:01; lost by dec. to Casey Schaub, Havre, 10-7; dec. Cody Tacher, Anaconda, 9-2; lost by dec. to Easton Padden, Laurel, 10-6.
160 – Josiah Coker (1-2) – Pinned by Ethan Hinebauch, Havre, 0:45; pinned Jeff Marstaeller, Laurel, 2:11; lost by dec. Tyler Wheeler, Ronan, 6-3.
171 – Dean Willey (1-2) – Pinned by Levi Cade, Belgrade, 1:25; pinned Tad Logan Maxon, Billings Central, 3:36; pinned by Kurtis Gipson, Hardin, 4:48.
171 – Seth Wright (3-1, 2nd)  – Pinned Ervin Carlson, Browning, 0:37; pinned Randy Green, Sidney, 0:24; pinned Levi Cade, Belgrade, 1:10; lost by dec. Brock Picard, Polson, 7-5.
189 – Evan O'Brien (0-2) – Pinned by Skyler Carroll, Livingston, 2:21; pinned by Layne Johnson, Miles City, 0:40.
215 – Justin Graham (4-0) – Pinned William Tidzump, Browning, 0:06; pinned Dan Sanderson, Corvallis, 0:50; pinned Paul Jensen, Havre, 2:39; dec. Kelly Houle, Columbia Falls, 4-0.
Hwt – Brandin Mills (2-2) – Dec. Clint Robinson, Belgrade, 14-8; pinned by Wesley Sherman, Hamilton, 2:29; dec. David Paul, Anaconda, 5-1; lost by dec. Kaden Thomas, Polson, 6-1.
---