Fine Day at the line: Troy senior sinks 10 FTs in fourth quarter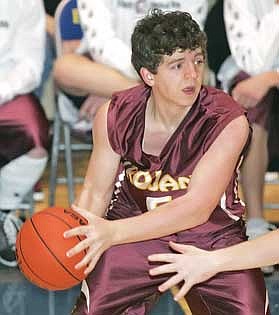 Paul Sievers/The Western News Dalton Powell of the Trojans looks to pass.
by
Brad Fuqua & Western News
|
February 16, 2009 11:00 PM
Calm, cool and collected.
Ten times during the fourth quarter, Troy High School senior Jesse Day walked up to the foul line to attempt a free throw. And all 10 times, Day converted to help the Trojans to a 55-41 victory over Eureka.
Although Troy took a 10-point lead into the fourth quarter, top scorer Aaron Palmer had fouled out and the Lions seemed to be on the verge of one final run. But Day put on a clinic at the foul line.
The victory clinched second place in District 7-B for the Trojans. They will face No. 3-seeded Thompson Falls on Friday at the district tournament in Libby. The two teams tied in the standings but Troy had the tiebreaker because of a regular-season sweep over Thompson Falls.
The game was the last ever played in Troy Gymnasium. Next year, the Trojans will move to the new Troy Activity Center. Among those in the crowd were three players who suited up for Troy in the first-ever game in the gym 58 years ago – Ike Cummings, Don Johnston and Alan Hodges. One of the referees from that game – Roger Kensler – was also on hand to catch the finale.
The evening also marked the final regular-season game coached by Tony Smith.
"I've loved every minute of it," said Smith, who coached at every level for both boys and girls over the past 30 years. "The thing I've loved is the kids and the game itself, but especially my relationships with the other coaches and the referees. It's been just wonderful."
Eureka beat Troy on a buzzer beater earlier this season and the two teams played close through the first quarter-and-a-half. Trailing 13-12 more than a minute into the second quarter, the Trojans put together a 6-0 run to build some momentum. The Lions got back to within 18-17 but Troy responded an 11-2 run to head into the locker room with a 29-19 lead.
"We just started picking up the tempo," Smith said. "We got better looks. When we run the floor better, it flattens out the defense and gives our 3-point shooters more looks."
Shado Garrett was primarily getting the best 3-point looks and he sank one from beyond the arch in each of the final three quarters. Meanwhile, Eureka's 6-foot-10 senior center Marcus Pluid managed only six points for the game.
"We held their top scorer to six points tonight … that was a key," Smith said.
In the fourth, Palmer fouled out with 5:19 remaining on an offensive charge. Garrett hit a 3-pointer with 4:26 left for a 43-32 Trojan lead but that would be the last Troy basket of the game. But Day saved the day with his foul shooting. He ended up with 19 points on three field goals and 13-of-14 free throws. Palmer contributed 16 and Garrett added 10.
Smith said he was also pleased with his bench, including sophomore Kody Hoffman who got good minutes late. Hoffman grabbed three rebounds and drew a pair of fouls to reach the foul line on two occasions.
Palmer crashed the boards for 15 rebounds to record a double-double for the second straight night. Garrett also had a big night on the boards with a dozen rebounds.
Eureka freshman Ryan Holder scored 20 points for the Lions. Pluid had 11 rebounds.
Troy finishes the regular season at 5-3 in the league, 13-5 overall.
Trojans 55, Lions 41
Saturday at Troy
Eureka (41)
Thomson 2 0-2 4, Sanders 1 0-0 2, Holder 6 5-10 20, Dechart 2 0-0 5, Pluid 3 0-0 6, Curtis 0 0-0 0, Peterson 0 0-2 0, Davis 1 2-3 4. Totals 15 7-17 41.
Troy (55)
Kyriss 2 0-2 5, Garrett 3 1-2 10, Palmer 7 2-6 16, Day 3 13-14 19, Hammrich 0 2-3 2, Jones 0 0-0 0, Powell 0 0-0 0, Rebo 1 0-0 2, Hoffman 0 1-4 1, Curry 0 0-0 0, Harper 0 0-0 0. Totals 16 19-31 55.
Three-Pointers–Eureka 4 (Holder 3, Dechart), Troy 4 (Garrett 3, Kyriss). Rebounds–Eureka 36 (Pluid 11), Troy 44 (Palmer 15). Assists–Eureka 11 (Sanders 4), Troy 9 (Day 4). Total Fouls–Eureka 27, Troy 17. Fouled Out–Holder, Palmer, Hammrich. Technical Fouls–Eureka coach.
---