In a hurry to arrive: Troy woman gives birth to son in ambulance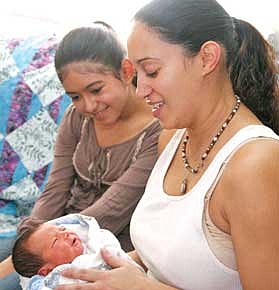 Canda Harbaugh/The Western News Bobby Brown and her daughter, Tamiah, 12, smile at the newest addition to the family, five-day-old Preston, who was born on Jan. 29 in an ambulance.
by
Canda Harbaugh & Western News
|
February 4, 2009 11:00 PM
A newborn flew into Libby's hospital on Thursday evening of last week but it wasn't by stork – it was via Troy Volunteer Ambulance.
Three emergency medical technicians and a paramedic helped a Troy mother deliver her baby while racing toward St. John's Lutheran Hospital.
"The baby told me it was coming," said Bobby Brown, the mother. "He was born at Cedar Creek because he just couldn't wait for the hospital."
Brown gave birth Thursday night at 5:57 to Preston Micah Rory Stafford, a healthy boy measuring 19 inches in length and weighing 6 pounds.
It was only the second birth in a Troy ambulance, according to the attending paramedic.
Brown's water broke at her home in Troy. Her mother arrived shortly afterward to take her and the baby's father, Preston Stafford, to the hospital. But by that time, Brown was already experiencing close contractions.
They flagged down Troy Police Officer Bob McLeod to escort them, but when they realized the baby wouldn't wait, Troy Volunteer Ambulance was called.
"I was just hoping she could wait until we got to the hospital," said Stafford, "but when the paramedic came, I was thinking, 'Man, this is really happening.'"
EMTs Roger Gilligan, Bob Parker and Chera Cole tended to Brown and met paramedic Shawn Thrasher, who was working in Libby, at mile marker 24.
"I did a quick exam, and two minutes after I intercepted the ambulance, she had the baby," Thrasher said.
When asked how long it took to deliver Preston from the time her water broke, Brown couldn't be sure.
"I was too busy trying to breathe," Brown said. "From the (Troy) bowling alley to Cedar Creek, however long that takes in an ambulance."
Brown's birth to her 18-month-old daughter, Trinity, was also a short one.
"She came out pretty quick, like 20 minutes," Brown said. "There was some warning, but she just shot out of there, too."
"Trinity came just as fast," added Stafford, "but at least we were able to get to safety."
In addition to Preston and Trinity, Brown has three other children: Josiah, 6; Manny, 10; and Tamiah, 12.
---