Jette Sheeley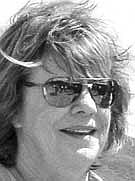 |
February 2, 2009 11:00 PM
Jette Sheeley, 66, died Saturday, Jan. 31, 2009 at her home in Libby from natural causes.
She was born July 30, 1942 in Copenhagen, Denmark to Carl and Ellen Rassmusen Salling. She grew up in Southern California but returned to Denmark to finish high school.
She worked in drug stores and supermarkets as a cashier for a number of years. She married Jay Sheeley on Nov. 26, 1977 in Lake Tahoe, Nev. They moved to Libby in March 1988.
She was a member of the Hospital Auxiliary for more than 20 years. She loved animals and being at home.
Survivors include her husband, Jay Sheeley of Libby; four children, Eric Scovel, Craig Scovel, Jay Sheeley Jr. and wife Tracy – all of California; and Joanne Toice and husband Butch of Pennsylvania; sister, Henni Ray and husband Ron of California; and six grandchildren, Garrett, Jay, Jack, Rachel, Nicole, Todd.
Services will be Friday Feb. 6 at 11 a.m. at the Schnackenberg & Nelson Funeral Home in Libby.
---