LHS tunes up for conference with dual against Glacier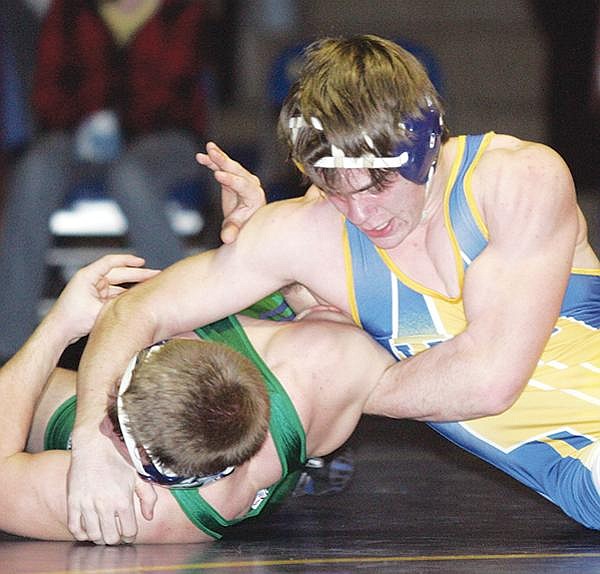 Paul Sievers/The Western News Libby junior Kody Berget pins Glacier junior Boyce Ballard on Tuesday night.
by
Brad Fuqua & Western News
|
December 27, 2009 11:00 PM
Trailing 5-0 through the first period in his 189-pound match on Tuesday night against a Class AA grappler, Libby junior Kody Berget appeared to be in a pretty tough spot.
Glacier junior Boyce Ballard never knew what hit him.
Berget caught his opponent's attention with a three-point nearfall in the first 28 seconds of the second period. Then he stunned Ballard later in the second by getting the stick with 16 seconds showing on the clock.
"I was just thinking that I can't give up and somehow get out on top," Berget said about his predicament in the first period.
Berget used the "whip-over" move to get Ballard on his back.
"That's the move I've used in every one of my matches," Berget said.
Glacier pulled off a 54-20 dual victory in the Tuesday evening matchup at Ralph Tate Gymnasium. Despite the lopsided loss, the Greenchain had their share of highlights.
Preceding Berget's thrilling victory, Libby senior Kyle Sweedman put on a display of power with a pin in 3:07 over Wolfpack freshman Aaron Mitchell at 171 pounds. Sweedman had four nearfalls on his way to victory and held a 13-0 advantage before finally pinning his opponent.
Sweedman said he approaches every match the same – whether he's wrestling a less-experienced freshman during a dual or competing in a high quality event such as last weekend's Tri-State Tournament.
"It's pretty sweet to get third," Sweedman said about his exceptional showing in Coeur d'Alene. "But I can always do better and need to keep on wrestling my best."
As far as the Northwestern A goes, Sweedman appears to be the class of conference at 171. Berget, meanwhile, has his work cut out at 189 with Ronan's Toby Cheff in the same weight class.
In Tuesday night's dual, the Wolfpack pinned eight straight Libby wrestlers following Sweedman's victory. The Greenchain finished strong, however, by winning the dual's final three matches.
First, LHS sophomore Kyle Leir took a 10-2 major decision at 135 pounds over freshman Nick Iavicolli. Then, Cody Elliott won in impressive fashion with a pin in 2:19 over senior Tyler Hendrickson. Elliott and Hendrickson traded points through the first period and were tied, 6-6, when the fall occurred.
Dylan Berget wrapped up the competition at 145 with an 11-2 major decision over Brayden Bagley. Berget took a 6-2 lead in the second period and got a key three-point nearfall before the midway point of the third en route to the win.
Earlier on – the dual started at 152 pounds – Libby's Morgan Peek and Austin Bailey battled hard but lost on decisions. Peek at 152 came up short in a 7-3 decision against Riley Pisk. Following a scoreless first, Pisk got out to a 3-1 lead in the second and then pulled away in the match's final minute.
Bailey followed at 160 and got into a 9-1 hole before rallying to make things interesting in the third. Travis Woodland held on to take a 16-9 decision.
Libby now takes a competitive break before heading to Whitefish for a dual on Jan. 2.
Glacier 54, Libby 20
Tuesday at Ralph Tate Gymnasium
98 – Mercy Armstrong, G, pinned Ian Edwards-Myslicki, 1:07
105 – Kaleb Mitchell, G, pinned Isaac King, 0:55
112 – Zach Barber, G, pinned Levi Erickson, 4:32
119 – Jackson Barber, G, pinned Aaron Seefeldt, 0:41
125 – Lucas Mantel, L, pinned Mike Roby, 4:19
130 – Cooper Sipe, G, pinned Mitch Haugen, 3:44
135 – Kyle Leir, L, maj. dec. Nick Iavicolli, 10-2
140 – Cody Elliott, L, pinned Tyler Hendrickson, 2:19
145 – Dylan Berget, L, maj. dec. Brayden Bagley, 11-2
152 – Riley Pisk, G, dec. Morgan Peek, 7-3
160 – Travis Woodland, G, maj. dec. Austin Bailey, 16-9
171 – Kyle Sweedman, L, pinned Aaron Mitchell, 3:07
189 – Kody Berget, L, pinned Boyce Ballard, 3:44
215 – Randy Martin, G, pinned Rigo Ibarra, 2:49
Hwt – Dan Gilbert, G, pinned Lucas Puckett, 0:25
---