Veteran Troy judge relinquishes spot on bench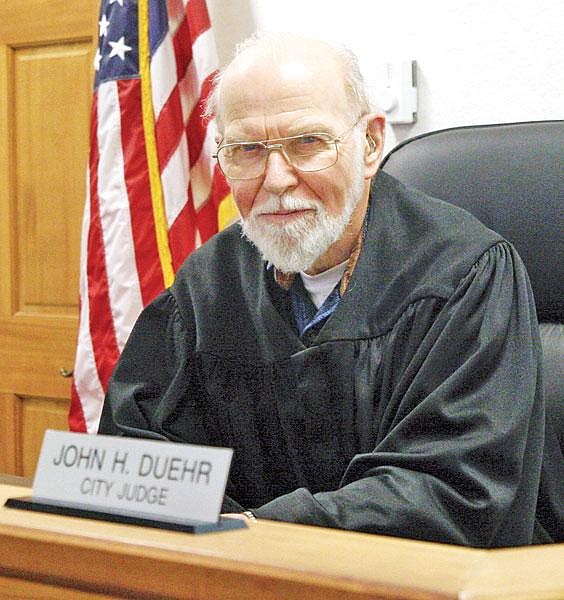 Canda Harbaugh/The Western News John Duehr has occupied the judge's chair in Troy for more than 20 years.
by
Canda Harbaugh & Western News
|
December 23, 2009 11:00 PM
Twenty years ago last September, Troy's mayor handed over the keys to the city courtroom to John Duehr. Although he hadn't yet received any formal training for the part-time city judge position, Duehr possessed intelligence and an unbiased attitude – qualities needed to get started.
"He took me over to the courtroom," Duehr recalled, "opened the doors up with the keys, and then he handed me the keys and said, 'I don't know a thing about being a judge.' Then he walked off. That was my introduction to it. I thought, 'What in the world do I do now?'"
The Justice of the Peace in Libby was kind enough to instruct Duehr on how to file a ticket, but that was the extent of his training until the next judicial conference arrived the following month.
Duehr has taken on many roles as the city court's sole employee – judge, clerk, secretary and sidewalk snow shoveler, to name a few. He has gone through the highs of marrying two people in love to the lows of dealing with domestic violence.
At the end of the month, Duehr will leave his position to make room for a new judge, Allen Dye, who will need to navigate and learn the system, much like his predecessor did two decades ago. But this time around, the new judge is getting a little more help.
"He's trying to show me a lot here," Dye said last week during a break from training, "and there's a lot to learn."
Duehr first caught glimpse of the Troy area in the early 1950s from the window of a steam engine-powered train while he was on his way to Alaska. The image must have left an impression because more than 30 years later, he and his wife, Pat, would choose the pristine landscape to be the setting of their retirement years.  
After 20 years in the Air Force and a second career in human resources at a semi trailer building plant, Duehr and his wife moved from the cornfields of Ft. Madison, Iowa to the mountains of northwest Montana. 
When the Troy City Council appointed Duehr in 1989, the position had been open for two or three months. To the best of Duehr's recollection, no one else had applied.
He and his wife had lived in Troy for two years and were volunteer dispatchers. A Troy police officer suggested Duehr apply for the job and another volunteer dispatcher, Laura Schrader, also encouraged him.
"Because I thought he was so unbiased about everything I just thought he would make an excellent choice for Troy city judge," Schrader said.
Duehr had no legal experience but did have a college education, so he gave it a try, not knowing that he would still be at it so many years later.
"It was a part-time job," Duehr said, "but at the same time it forced me to do something, hopefully do something that is right for the city."
Schrader worked with Duehr during her 16-year tenure on the city council and has also collaborated with him through her job as records clerk for Lincoln County Sheriff's Office.
"It's been a real pleasure to work with him all these years," Schrader said.
Duehr relied on a network of judges statewide for help and advice, as well as the clerks in justice court, who helped him transition the court to the computer age from a 50-pound typewriter and handwritten file cards.
"Those three ladies over there (in justice court) – Robin, Peggy and Shari – I've known them about the time since I've been here. It's – it's a group," Duehr spoke, admiration written on his face and in his voice. "Straight aces. I've been very happy with them. They've helped me out a lot."
The feeling is mutual for justice court clerks Robin Schiferl, Peggy Craver and Shari Richards. Schiferl said she was impressed with how quickly Duehr grasped computer concepts. Craver also admired him.
"He's one of the nicest men I've ever met," Craver said. "He's very knowledgeable, very smart. He'll be missed."
The stress of the position was high, at times, because Duehr made difficult rulings that affected people he knew and saw day-to-day in the small community.
A man dedicated to his family with a wife of 54 years and a grown daughter, Duehr said it has been tough to witness couples so wrapped up in their disputes that they forget their children on the sidelines. Duehr has also mourned the countless times that court orders have failed to protect a woman from her abusive partner because, more often than not, the women return to the unhealthy relationships.
"It's not their fault – they're worried about their kids, wondering where they're going to go or if they're going to be taken away – a thousand other things," Duehr said. "They, themselves, wonder, 'Where would I go if he's not here to support me?' That's a sad item."
The job has also had its joys.
"Weddings. I'm always glad to see them even if the location of them may sometimes be a little wayward," Duehr laughed, recalling the time he officiated a wedding in the middle of the Swinging Bridge on a windy day over the Kootenai River.
Duehr said that now he'll be able to spend more time with his wife and work on projects that have been set aside for too long.
"I'm building a model railroad that I started 20 years ago," he said. "When I started this job, I had to give that up, so that's waiting. So, there's lots to do."
---