Ben Webb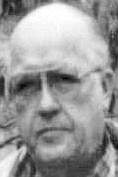 |
December 21, 2009 11:00 PM
Bernard "Bennie" Webb, 77, died Saturday, Dec. 19, 2009, at Mountain View Manor in Eureka.
He was born to Dick and Lena Webb in Beaver, Ohio on Sept. 1, 1932. In 1947, the family moved to Rexford where he attended Lincoln County High School.
At age 18, he had his first job manning Webb Mountain Lookout and continued to work for the Forest Service off and on until his retirement.
He married Linda Tyrone in 1956 and they made their home in Rexford. They bought a gas station and when it burned down they rebuilt it and added a grocery store. His father worked the grocery store and he made a living working in the woods and tending bar for his in-laws, Bud and Margaret Giese, at the Stockman's Bar in Eureka.
The couple had three children – Terry, Monte and Tracy. In the 1960s, they opened the doors to the Bull Pen during the height of Libby Dam's construction.
Family will remember him as a man who never met a stranger and was ready with a laugh, or with a joke or story.
Mr. Webb enjoyed life, especially with family and friends, and was never a man in favor of idle time when one could be socializing.
"There was always a motorbike or snowmobile that should have its abilities tested, a pool game or card game that needed challenged, a wrestling match or a good fistfight that needed to be started, there was always a bully to bump, a dance to have, and a granny to chase," family members said. "There was always a son, daughter or granddaughter that needed to learn how to drive, dance, plant a garden, drag a log out of the woods and sharpen a chainsaw, to throw a football, swing a golf club or get advice on bowling. There was always laughter."
Mr. Webb was preceded in death by his father, Joe Dick Webb; mother, Lena Crace Webb; son, Monte Webb; brother, Charlie Miller; sister, Betty Tidwell; brother in-law, John Tidwell; and niece, Johna Fleming.
He is survived by two sisters Jane Karr and Ray of Stevensville; and Joy Cabe of Overland Park, Kan., daughter, Terry Webb of Eureka; son Tracy Webb and Twila of Eureka; four granddaughters, Desiree' Pecora and John Parrish of Eureka; Lena Henderson and Kyle of Eureka; Britney Webb and Allen Brooks of Eureka; and Katie Cook and Graham of Fortine; four great-grandchildren; five nieces and two nephews. A memorial service and dinner is planned for 2 p.m. Saturday, Dec. 26 at First Baptist Church in Eureka.
Schnackenberg & Nelson Funeral Home in Eureka handled arrangements.
---