Girls Basketball: Lady Loggers dump Class AA opponent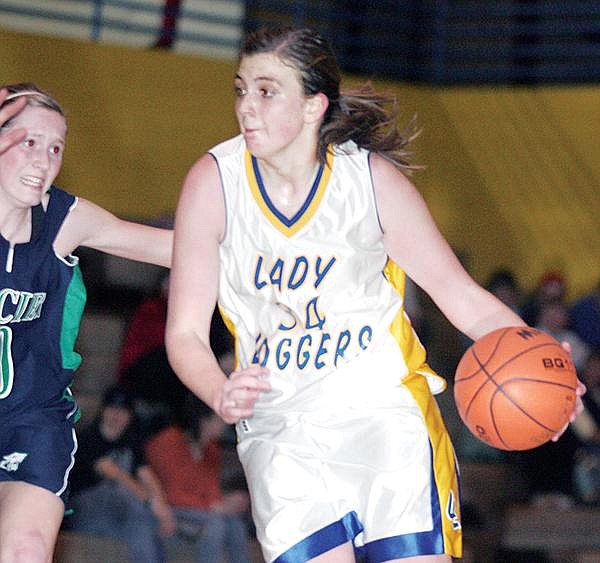 Paul Sievers/The Western News Libby senior Jackie Mee drives on Rachel Cutler of Glacier during the second quarter Tuesday night.
by
Brad Fuqua & Western News
|
December 15, 2009 11:00 PM
Leading by four at the break, the Lady Loggers wanted to come out strong in the third quarter to take control of their matchup against Class AA Glacier.
Those plans didn't exactly materialize as the Wolfpack took a 34-32 lead three minutes into the third. But Libby braved the storm and regained its composure to finish the quarter with a 12-2 run.
The Kalispell school never recovered as the Lady Loggers posted a 55-44 victory to improve to 2-1 on the season.
"We talked about it a lot. You can lose your head and your momentum," LHS coach Jim May said about wanting a strong start to the second half. "We lost our lead in the third quarter but we have a team that's hard to shake."
Down by two points with 5:05 left in the third, Jackie Mee tied the game with a pair of free throws and then gave LHS the lead with a 3-pointer. In a mere 54 seconds, Libby had gone from a two-point deficit to a three-point lead.
When the Wolfpack later pulled to within 39-36 after scoring off the full-court press, Libby responded with five straight points to end the quarter. Mee and Logan Best found the hoop and Jaime Gilden sank a free throw to give Libby a 44-36 lead heading into the fourth.
Glacier never got any closer than five points over the final eight minutes.
Libby was finding the net in the win with a 47.7 shooting percentage. On the other end, Glacier managed to hit just 28.1 percent of its shots.
"On Saturday against Hamilton, they just didn't shoot very well," May said about Libby's 38-34 win. "I thought that tonight it had a little bit more to do with our defense."
Mee and Gilden were forces both scoring and rebounding. Mee was 8-for-17 from the field – including a trio of 3-pointers – and 6-of-7 from the free-throw line for 25 points. Gilden made 6-of-7 field goals and 2-of-5 free throws for 14 points. On the board, Mee led with 15 and Gilden had 11.
Glacier senior Brooke Watkins scored 17 with five 3-pointers to lead her team. Ashlee Waggener scored 10 points and a team-high eight rebounds.
Libby heads to Kalispell on Saturday to face Flathead.
Libby 55, Glacier 44
Tuesday at Libby
GLACIER (44)
Cutler 2 2-2 7, Saraf 2 0-0 4, Quay 3 0-2 6, Watkins 6 0-1 17, Waggener 3 4-11 10, Latimer 0 0-0 0, Hughes 0 0-0 0, Mathison 0 0-0 0, Heavirland 0 0-0 0, Bennett 0 0-0 0. Totals 16 6-15 44.
LIBBY (55)
Luscher 3 0-0 6, Martin 2 1-2 5, Gilden 6 2-5 14, Best 2 1-3 5, Mee 8 6-7 25, Tangen 0 0-0 0, Good 0 0-0 0, Johnson 0 0-0 0. Totals 21 10-17 55.
Three-Pointers–Glacier 6 (Watkins 5, Cutler), Libby 3 (Mee 3). Rebounds–Glacier 30 (Waggener 8), Libby 42 (Mee 15). Assists–Glacier 7 (Sharaf 3, Waggener 3), Libby 15 (Gilden 4, Best 4). Total Fouls–Glacier 14, Libby 15. Fouled Out—None. Technical Fouls–None.
---