Wrestling: Greenchain slams Polson in conference dual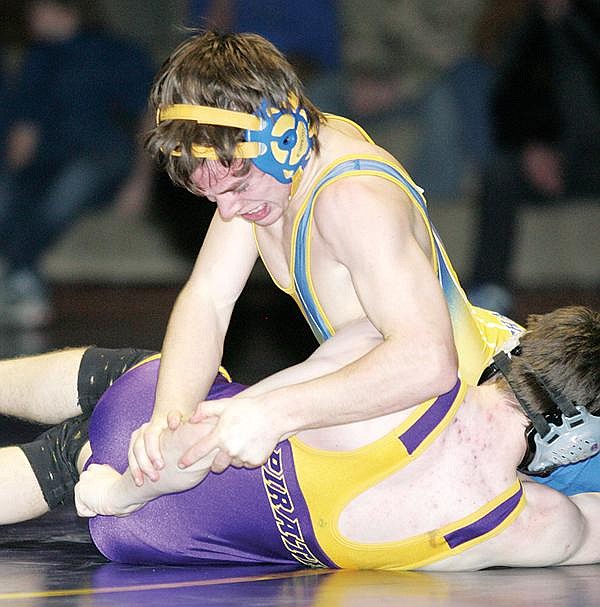 Paul Sievers/The Western News Libby freshman Mitch Haugen rallied from an early deficit to win his match over Alex Nystrom of Polson.
by
Brad Fuqua & Western News
|
December 13, 2009 11:00 PM
Although only a freshman on the Libby High School wrestling squad, those who follow the sport closely have probably heard of Mitch Haugen.
For those who haven't, Haugen was one of three first-place finishers in last spring's Western Montana Championships. This winter, Haugen is off to a great start while making the transition from the Libby Wrestling Club to the LHS Greenchain. Following a hard-fought victory in Libby's dual against Polson on Tuesday night, Haugen now sports a 2-0 record on the young season.
"He was hard-nosed and refused to lose," LHS coach Todd Schatz said about Haugen's pin in 3:01 over Polson's Alex Nystrom. "I was impressed with his tenacity."
Haugen was one of seven Logger wrestlers to win by pin in a 54-30 dual victory.
Haugen's pin midway through the second period occurred with the match tied, 4-4. In fact, Nystrom held a 4-0 lead 1:03 into the match only to see Haugen persevere and stage a comeback. It started with a reversal with 47 seconds left in the first period.
Haugen chose down to open the second and within 37 seconds, he executed a move to pull off a reversal on his opponent. Nystrom couldn't recover and ended up on his back with the official slapping the mat.
Kody Berget had the team's quickest pin of the evening with a victory at 189 pounds in just 48 seconds. Mike Roby disposed of his opponent at 125 pounds in 1:04, Kyle Sweedman took the win at 171 pounds in 1:07 and Cody Elliott raised his hand in victory at 140 pounds after 1:23.
Austin Bailey at 160 (3:12) and Dylan Berget at 145 (3:28) also won by sticking their opponents.
Ty Fouty had the fastest pin on the evening with a win for the Pirates in 37 seconds.
Libby's other 12 points came on forfeits – Aaron Seefeldt at 119 and Rigo Ibarra at 215.
"The whole year, we've just been focusing on getting better and not making the same mistake twice," Schatz said. "That was the difference between tonight and Saturday (vs. Ronan)."
One of the toughest setbacks of the evening for Libby occurred at 135 pounds. Polson's Jake Young won a match that went into four overtimes because of a rule that penalizes a wrestler for a false start. Leir had received two cautions for the infraction and the third occurred at the worst time.
Young, who last week won the 135-pound title at the Polson Invite, jumped out to a 3-0 lead midway through the second period before Leir started to collect points of his own. A reversal with 18 seconds left in the second cut the deficit to 3-2.
In the third period, Leir was awarded an escape point to tie the score. Regulation ended with the two wrestlers still tied. A one-minute overtime and two 30-second overtimes with each wrestler starting in the down position could not break the deadlock.
The fourth OT was sudden death but it never got started. With Leir in the down position, he jumped before the official whistled for the action to begin. The penalty point was awarded to Young and the intense battle ended on a down note.
Libby (1-1 in duals) will play host to Bonners Ferry, Idaho on Thursday before heading to the Superior Invitational on Saturday.
Libby 54, Polson 30
Tuesday at Libby
98 – Lucas Polk, P, dec. Ian Edwards-Myslicki, 4-3.
105 – Pat Sumner, P, pinned Isaac King, 0:50.
112 – Craig Feister, P, pinned Levi Erickson, 1:09.
119 – Aaron Seefeldt, L, won by forfeit.
125 – Mike Roby, L, pinned Nick Howell, 1:04.
130 – Mitch Haugen, L, pinned Alex Nystrom, 3:01.
135 – Jake Young, P, dec. Kyle Leir, 4-3 (OT)
140 – Cody Elliott, L, pinned Brock Bleazard, 1:23.
145 – Dylan Berget, L, pinned Chris Cote, 3:28.
152 – Ty Fouty, P, pinned Morgan Peek, 0:37.
160 – Austin Bailey, L, pinned Jake Skelton, 3:12.
171 – Kyle Sweedman, L, pinned Devin Kamarainen, 1:07.
189 – Kody Berget, L, pinned Gavin Fox, 0:48.
215 – Rigo Ibarra, L, won by forfeit.
Hwt – Kaden Thomas, P, pinned Lucas Puckett, 1:59.
---