Loggers wins another dual; take 2nd at Superior Invite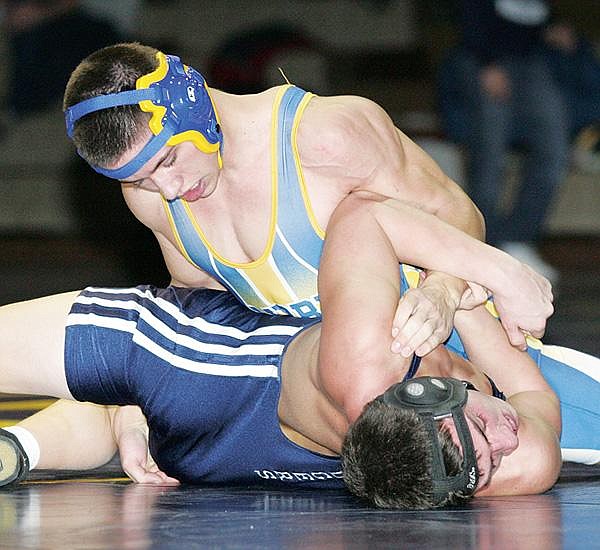 Paul Sievers/The Western News Libby junior Morgan Peek pinned Bonners Ferry's Thomas Osborn.
by
Brad Fuqua & Western News
|
December 13, 2009 11:00 PM
Back when Morgan Peek first entered the Libby High School wrestling program, Todd Schatz watched the then-freshman do a lot of push-ups for getting a little wild in practice.
In fact, Schatz said he probably did more push-ups than practice his skills on the mat.
Now a junior, Peek has settled down and has developed the wrestling skills that he was first exposed to back in the Little Guy program.
On Thursday night in a nonconference dual against Bonners Ferry, Peek won by pin in 3:31 over Badger sophomore Thomas Osborn at 152 pounds.
"Morgan has been working at it a long time," Schatz said following Libby's 57-29 win over Bonners Ferry. "He had quite a bit of success in junior varsity."
The victory was Peek's first of the season. He lost in 1:45 to Ronan's Micky Cheff and in 37 seconds to Polson's Ty Fouty – two grapplers that happened to be among the best in the conference. As a result, the win over Osborn represented a confidence boost to a wrestler in his first season at varsity.
"He's getting to be a little smoother and wrestling better," Schatz said.
Peek had the match in control from the beginning. He came out strong in the first period to take a 5-0 lead on a takedown and three-point nearfall. Osborn battled back to within 5-3 but Peek got a reversal at 1:18 of the second period and got his opponent on his back. The pin occurred with 29 seconds left in the second.
Pins were a common theme through the evening with seven of Libby's eight on-the-mat victories coming in such fashion. Two others were credited with wins on forfeits – Aaron Seefeldt (119) and Rigo Ibarra (215). Seefeldt's weight class seems to be light on athletes. The Libby junior still hasn't seen any action after three duals.
Schatz rattled off the names of five athletes that have turned his head so far this season, including 145-pound sophomore Dylan Berget.
"Dylan Berget had a couple of good matches," Schatz said. "He's another wrestler who is young and getting better."
Berget dominated fellow sophomore Adam Lund by taking a 4-0 lead by the end of the first period, and then getting the pin with 34 seconds left in the second.
Austin Bailey (160) won by pin in 1:26 over Joe Neumeyer, Mitch Haugen (130) went the distance to defeat Dusty Koehler by decision, 7-4, and Mike Roby (125) got a pin in just 1:00 over Reid Boorman.
"I've been real impressed with Bailey and Haugen; they're only freshmen," Schatz said. "Roby is a senior … he's undefeated. Sweedman's doing about what I figured he'd do."
Sweedman seems to be on a mission in the early weeks of the season with two pins and a 10-point decision. Against the Badgers, Sweedman won by pin in 1:24 over Zack Heigel at 171 pounds. The Libby senior got his first takedown a mere 6 seconds into the match and nearly got a pin in less than a minute.
Levi Erickson (112) and Kody Berget (189) also had nice victories for the Greenchain.
Erickson found himself in a pretty good battle with Tyson Boorman but took control midway through the second period with a three-point nearfall. By the end of the period, he held an 8-2 lead. Erickson got the stick 27 seconds into the third period.
Kody Berget was in top form against Badger freshman Carmen Krichaum. He got his first takedown only 9 seconds into the match and nearly pulled off a pin in just 20 seconds. Krichaum held on but the match was over in 1:19 as Berget improved his season to 2-1.
Bonners Ferry won five matches – four on pins and the other on a technical fall.
Runner-up at Superior Invite
The wrestling team followed its back-to-back dual wins with a good showing on Saturday at the Superior Invitational. Sweedman and Kody Berget won individual titles and as a team, the Greenchain finished runner-up behind Frenchtown.
Sweedman easily won his 171-pound championship match over Eureka's Taylor Brown with a pin in 1:08. Kody Berget also won by pin at 189 pounds over Browning's Wyatt Wippert in 1:58.
Cody Elliott advanced in the title match at 140 pounds and lost by pin to Arlee's Cole Rice.
Other Libby athletes placing in the top four included Isaac King (105), Erickson (112), Roby (125), Dylan Berget (145) and Peek (152).
King and Erickson each garnered third-place finishes. King won his consolation match at 105 by default. Erickson took third at 112 with a 7-5 decision over John Gunderson of Thompson Falls.
Roby, Dylan Berget and Peek each had fourth-place showings. Roby lost a close 3-2 decision in the consolation finals to Frenchtown's Zach Westre. Dylan Berget lost on an 8-1 decision to Cut Bank's Justin VandeBos. Peek dropped a 4-2 decision to Glacier's Matt Iavicolli.
Libby was scheduled to wrestle at Columbia Falls on Tuesday. The Greenchain will take part in the Tri-State Tournament at Coeur d'Alene, Idaho on Friday and Saturday.
Libby 57, Bonners Ferry 29
Thursday at Libby
98–Josh Tucker, BF, pinned Ian Edwards-Myslicki, 1:48.
105–Blaine Invernon, BF, pinned Isaac King, 1:16.
112–Levi Erickson, L, pinned Tyson Boorman, 4:27.
119–Aaron Seefeldt, L, won by forfeit.
125–Mike Roby, L, pinned Reid Boorman, 1:00.
130–Mitch Haugen, L, dec. Dusty Koehler, 7-4.
135–Ben Watt, BF, pinned Devin Williams, 1:16.
140–Trevor Hampton, BF, tech. fall Cody Elliott, 5:08 (19-2).
145–Dylan Berget, L, pinned Adam Lund, 3:26.
152–Morgan Peek, L, pinned Thomas Osborn, 3:31.
160–Austin Bailey, L, pinned Joe Neumeyer, 1:26.
171–Kyle Sweedman, L, pinned Zack Heigel, 1:24.
189–Kody Berget, L, pinned Carmen Krichaum, 1:19.
215–Rigo Ibarra, L, won by forfeit.
Hwt–David Willems, BF, pinned Lucas Puckett, 1:08.
Superior Invitiational
Saturday at Superior
Team Scoring
Frenchtown 212, Libby 164.5, Missoula Big Sky 162, Thompson Falls 126, Arlee 101.5, Mission-Charlo 95, Cut Bank 86, Superior 80, Browning 55, Eureka 51, Kalispell Glacier JV 47, Plains-Hot Springs 36, Noxon 30.
Championship Matches
98–Kylan Berkram, Cut Bank, pinned Justin Conklin, Big Sky, 1:41.
105–Austin Rubel, Arlee, pinned Dalton Nelson, T. Falls, 1:04.
112–Clay Armstrong, Frenchtown, pinned Russell Schultz, Mission-Charlo, time NA.
119–Cody Ishler, Frenchtown, dec. Kenneth Beech, Plains-Hot Springs, 4-2.
125–Mason Chatterly, Superior, maj. dec. Logan Lefler, Arlee, 14-1.
130–Josh Wright, Superior, maj. dec. Dan Taron, Superior, 14-4.
135–Garrett Stephens, Superior, won by default.
140–Cole Rice, Arlee, pinned Cody Elliott, Libby, 4:44.
145–Brad Nordahl, Frenchtown, dec. Jame Peterson, Mission-Charlo, 5-2.
152–Richard Lyons, T. Falls, pinned Ely Indreland, Frenchtown, 1:24.
160–Taylor Vaughn, Eureka, pinned Shawn Sacchi, T. Falls, 5:00.
171–Kyle Sweedman, Libby, pinned Taylor Brown, Eureka, 1:08.
189–Kody Berget, Libby, pinned Wyatt Wippert, Browning, 1:58.
215–Brennan Fisher, Frenchtown, pinned Brock Calvi, Cut Bank, 3:23
Hwt–Chad Sickles, Big Sky, pinned Devante Wilson, Frenchtown, 3:36.
Consolation Matches
98–Glen Hensley, Frenchtown, pinned Tucker Schmidt, Big Sky, 2:17.
105–Isaac King, Libby, won by default.
112–Levi Erickson, Libby, dec. John Gunderson, T. Falls, 7-5.
119–Beau Doerr, Big Sky, maj. dec. Casey Nitschke, Mission-Charlo, 10-0.
125–Zach Westre, Frenchtown, dec. Mike Roby, Libby, 3-2.
130–Anthony Thompson, Big Sky, dec. Logan Fisher, Frenchtown, 9-4.
135–Tanner Gascon, T. Falls, maj. dec. Wyatt Deering, Frenchtown, 14-6.
140–Scotty Morgan, Big Sky, dec. Dakota Matt, Mission-Charlo, 4-3.
145–Justin VandeBos, Cut Bank, dec. Dylan Berget, Libby, 8-1.
152–Matt Iavicolli, Glacier, dec. Morgan Peek, Libby, 4-2.
160–Keenan Moreau, Big Sky, dec. Travis Dumont, Mission-Charlo, 3-2.
171–Damon Cordier, Arlee, dec. Levy Dowell, T. Falls, 13-7.
189–Dylan Johnston, Cut Bank, dec. Eric Hilety, T. Falls, 6-4.
215–Glen Maricelli, Big Sky, pinned Cody North, Arlee, 0:29.
Hwt–Austin Fitzgerald, Browning, dec. Cody Martins, Noxon, 2-0.
---