Boys Basketball: Troy cagers coach sees potential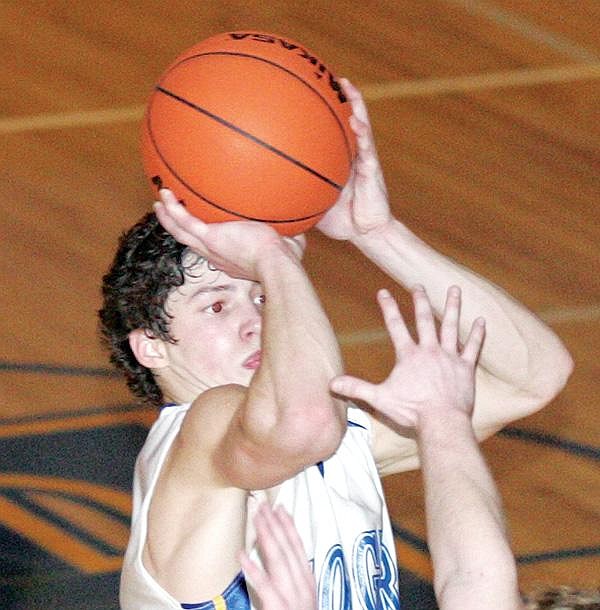 Paul Sievers/The Western News The Loggers' T.J. Benson pulls up for a shot attempt in the fourth quarter.
by
Brad Fuqua & Western News
|
December 9, 2009 11:00 PM
With only one starter returning from last season's 13-9 squad and a new head coach now onboard, the Troy High School boys basketball team could be characterized as a program that's rebuilding.
First-year coach Cory Andersen – who last year directed the Lady Trojans – admitted that his players need varsity experience. But he also added that the potential is there to be a factor in District 7-B.
"It's going to be an interesting year," Andersen said. "I'm not real sure what we're going to be this year. We still need to find our identity."
Andersen succeeded Tony Smith as the man in charge of the boys program. In his only year with the Lady Trojans, Andersen guided them to a 7-12 record.
"I didn't know what to expect last year but overall I enjoyed working with the girls," Andersen said. "Looking at the big picture, I always felt that I wanted to work with the boys. Some things with my approach and the way I coach the game, it's easier to relate to the boys."
This will be Andersen's first gig as a varsity boys basketball coach at the high school level. In the past, he's coached junior high boys.
On the court this season, Brian Hammrich will draw a lot of attention among Troy's opponents. Hammrich, a 6-foot-2 senior, is heading into his third season of varsity ball.
"He'll be the guy that kind of keeps everybody focused," Andersen said. "He's a good player, works hard and he's a role model for the guys coming up."
Overall, Troy will put an inexperienced team on the floor. As such, expect the Trojans to run for opportunities to capitalize on the transition.
"We hope to get out and score some points (in transition)," Andersen said. "I may be surprised but we may have to win games with defense."
Jake Alexander, a 5-7 senior, and Dillon Curry, 6-1 senior, also saw some minutes with the varsity last season.
"We have quite a bit of talent down to the sophomore level," Andersen said. "We'll probably be starting one sophomore with another sophomore playing."
Hammrich no doubt remembers Troy's struggles in the playoffs. After a 13-5 regular season, the team lost four straight at districts and divisionals.
"Brian remembers what happened … it was a tough way to end the year," Andersen said. "They didn't play well in districts and divisionals. But most of these kids that I have really didn't play on that team that much."
With those fresh faces, the coach hopes the Trojans can make big strides over the course of the season. Fans will notice some changes on both ends.
"This weekend will be a good test for us," Andersen said, referring to Troy's own preseason tournament on Friday and Saturday. "We have a new system with the offense and defense. It'll be a little different but we'll take some time to get used to that."
Bigfork's reclassification into Class B changes the 7-B district's look this season. And Andersen expects Bigfork to have an immediate impact on the standings. From what Andersen saw in summer ball, he believes Plains and Thompson Falls will also put competitive squads on the floor.
Troy opens its slate on Friday with home tournament games against Valley Christian on Friday and Stillwater Christian on Saturday. Both games are scheduled for 7:30 p.m. tip-offs.
---