McLeod back on job for Troy PD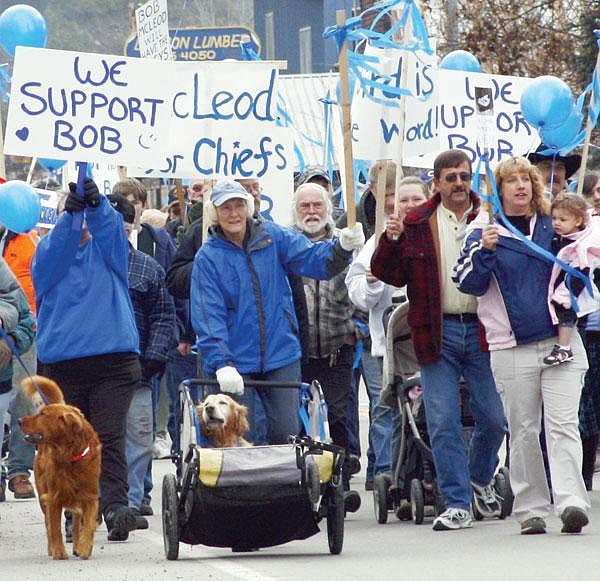 Courtesy/Stephanie Lundin Troy residents take to the streets on Nov. 28 in support of officer Bob McLeod.
by
Canda Harbaugh & Western News
|
December 6, 2009 11:00 PM
Troy police officer Bob McLeod went back to work Friday following two weeks of administrative leave that stemmed from a civil lawsuit launched against him alleging improper use of a Taser.
"It's been an emotional few days," McLeod said. "A lot of waves, thumbs up, hugs and tears."
A three-person committee reviewed evidence and interviewed McLeod on Thursday, recommending to the Troy mayor that he be reinstated. The committee was made up of incoming Troy mayor Don Banning, retired law enforcement officer and incoming city judge Allen Dye, and Troy businessman Sam Shupe.
"The investigative committee met today (Thursday) and decided it was not excessive force and that he did not violate anyone's civil rights," Banning said.
Troy resident Alfred "A.J." Haflich filed the $200,000 lawsuit against McLeod in federal court on Nov. 17, alleging that McLeod Tased him in the ribcage two years ago solely to quiet him down as he was handcuffed and seatbelted in the back seat of McLeod's cruiser.
The committee viewed footage of the incident from the dashboard camera, which did not show the Tasing but reportedly recorded audio of the entire incident. The committee did not interview Haflich.
The surveillance reportedly revealed that a drunk Haflich was swearing and yelling about his car being towed and making it impossible for McLeod to use his radio. McLeod's report stated, though Haflich denies, that the officer opened the door and Haflich shifted his body in preparation to kick.
"He was posed in the back seat to kick Bob," Banning said, "and Bob reached back and Tased him to get him to settle down. The guy was drunk."
McLeod reportedly asked Haflich if he was going to quiet down, Haflich responded that he wasn't, and then the Taser was used for a full five seconds.
Haflich admits that he was drunk – in fact, he had twice the blood alcohol content permitted by law to drive. He pleaded guilty to felony DUI and went to prison for a year following the arrest.
Haflich pointed out that it was not a good enough reason to Tase him. The pain was excruciating, he said, and was solely to keep him from yelling – a violation of his civil rights to free speech.
"I don't believe there's any cause for an officer to use a Taser on a person simply because they're voicing their opinion," Haflich said.
The incident first came to light when Haflich filed a complaint with Troy chief of police Mitch Walters last month.
"I thought about it a lot and wasn't sure if I was prepared to handle the pressure and the public scrutiny," he said. "… I knew it was the right thing to do, not just for me but for every citizen who finds themselves in this situation."
Walters believed McLeod used excessive force and so he took the complaint to mayor Jim Hammons. When Hammons disagreed with police chief's assessment, Walters reported the incident to the state Department of Justice, Division of Criminal Investigations.
The state informed Walters that he needed a referral from the county attorney. He shared the footage with Det. Capt. Jim Sweet of the Lincoln County Sheriff's Office and the two took the case to county attorney Bernard Cassidy, who later wrote a letter stating that, in his opinion, no criminal action occurred, so he would not refer the incident to the state.
"Although the video does not show the Tasing itself, the rest of Officer McLeod's actions throughout the video were professional, thorough, and showed considerable patience and restraint," Cassidy wrote.
Given the circumstances – the two-year delay in complaint and the fact that Haflich was drunk and found in possession of a case of stolen beer – Cassidy did not believe a jury would find McLeod guilty of criminal intent.
However, he stated that it was not within the scope of his position to determine whether or not McLeod's conduct was a violation of Troy Police Department policy or of Haflich's civil rights.
Walters, who is on administrative leave for an unrelated incident, said that he wrote up McLeod for a prior Taser violation. McLeod denies the claim.
TPD officers had been properly trained to use a Taser, Walters and Hammons said, by former Libby chief of police Clay Coker. Even if Haflich was posed to kick McLeod, Walters said, Tasing him for a full five seconds did not fall under reasonable force in the TPD Taser policy.
Haflich said Monday he has used advice from attorneys in the case, but he has yet to retain one.
---