State champion Loggers hoping for shot to repeat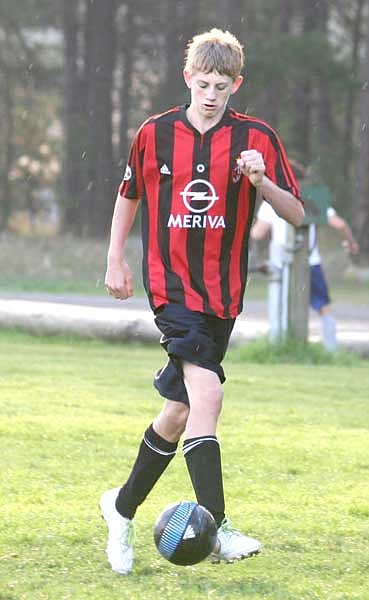 Brad Fuqua/The Western News Cree Maloney works in practice during a ball-control drill at J. Neils. Maloney was Libby's second-leading scorer on last fall's state championship team.
by
Brad Fuqua & Western News
|
August 27, 2009 12:00 AM
It's a tough act to follow.
The Libby High School boys soccer team reached the pinnacle last fall by winning its first-ever state championship. The Loggers outlasted Billings Central, 2-1, in a shootout that has to go down as one of the most exciting finales in the history of the tournament.
Going through drills last week at J. Neils Park, the Loggers were missing a good number of familiar faces from last year. But second-year coach Charlie Webster knows that he has a capable nucleus of returning players and a good crop of athletes moving up to give Libby another shot at the ultimate prize.
Libby returns six starters and its roster includes just five seniors. And only three of those seniors were varsity starters last year.
"But we're strong, as good of a soccer team as we've ever had knowledge-wise and skill-wise," Webster said. "We don't have quite the athletic team as we had last year. We'll see how far soccer skills take us and we'll have a lot of fun. If we continue that, we'll have a very successful season."
Junior Cree Maloney, the second-leading scorer in 2008 behind Kyle Berke, returns to the Logger lineup. Senior goalie Lewis Brossman – who was an all-conference selection last fall – is also back in uniform along with senior Nick Reny, junior Greg Lundin, senior James Schnackenberg and junior Brandon Pagacz.
"A lot of these kids have been playing for four or five years and have a lot of soccer knowledge and soccer skill," Webster said. "They will be playing some beautiful soccer and they're going to be very competitive."
As of last week, Webster had 35 players in the program.
"The decisions I have to make on starters and varsity teams will be very difficult this year," he said.
Libby finished 10-3-1 overall but despite the good record and trophy case addition, the Loggers were unable to beat Whitefish.
"Whitefish will be strong again this year. Libby has never beaten Whitefish in the history of the program," Webster said. "We want to beat Whitefish and that's one of our goals."
The Loggers appeared to have at least come away with a tie against their rivals but a questionable call involving a whistle and a free kick played a role in the outcome. Libby dropped a 4-1 game to Whitefish on the road but did not get another chance at them in the state playoffs. Billings Central eliminated Whitefish in the semifinals.
Winning a state title makes Libby a big game for all opponents.
"Everybody's going to bring their A game this year," Webster said. "No one's going to take us for granted and I don't think they ever have. The last couple of years, Libby has had an excellent soccer program. And this year after winning the state championship, everybody's going to want to beat us."
Among Webster's staff, Mike Petersen will serve as an assistant coach. The junior varsity program was able to add a couple of games to its schedule.
The Loggers open the season on Aug. 29 at Stevensville. The home opener follows on Sept. 4 against Belgrade and then the following day, Libby heads over to Roosevelt Park in Troy for a game against Livingston.
Libby has an interesting schedule with five straight road games from Sept. 12-26 and then four consecutive home games to end the season. As for the home game against Whitefish – it represents the regular-season finale on Oct. 10.
Schedule
Aug. 29 at Stevensville, 3 p.m.
Sept. 4 Belgrade, 4 p.m.
Sept. 5 Park (at Troy), Noon
Sept. 12 at Columbia Falls, 11 a.m.
Sept. 17 at Bigfork, 3:30 p.m.
Sept. 19 at Polson, 3 p.m.
Sept. 24 at Bnrs. Ferry, 4 p.m. (PDT)
Sept. 26 at Whitefish, 2 p.m.
Sept. 29 Columbia Falls, 3:30 p.m.
Oct. 3 Bigfork, 1 p.m.
Oct. 8 Polson, 3:30 p.m.
Oct. 10 Whitefish, 2 p.m.
Note: The playoffs open on Oct. 17 with the first round followed by the semifinals on Oct. 24. The state championship is scheduled for Oct. 31.
---