Trojans hope to carry over momentum from playoff year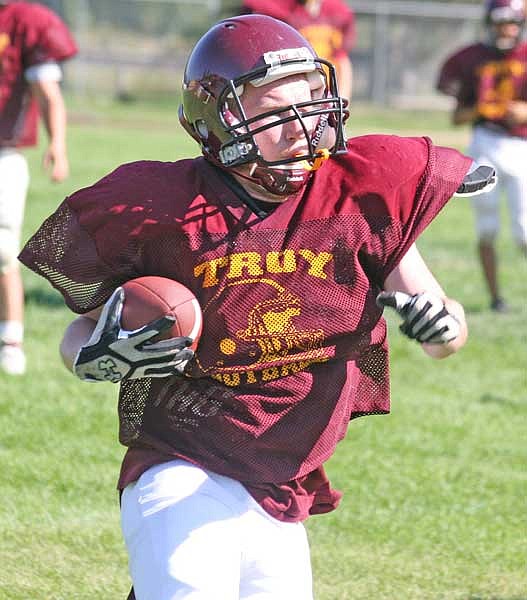 Jake Alexander breaks free on a run during practice last week in Troy. Now a senior, Alexander returns to give the Trojans tough yards out of the backfield.
by
Brad Fuqua & Western News
|
August 25, 2009 12:00 AM
The enthusiasm on the Troy High School football field is easy to spot.
Quarterback Mike Ormiston confers with head coach Rich McElmurry about his dropback technique while the rest of the team takes a water break during practice. Teammates urge one another on during drills that will prepare them for next week's season opener against Darby. And after making the playoffs for the first time in 16 years last fall, the Trojans got a good taste of success and have hopes of carrying that over into this season.
Troy finished 3-1 last year in the conference with the lone loss coming to Eureka. The Trojans showed vast improvement from week to week – something McElmurry will remember about his '08 squad and something he'd like to see again.
"That's the one thing we did, we got better as the year went on," McElmurry said. "That will be our goal this season – to get better every week."
Filling the shoes of Aaron Palmer quickly comes to mind. The all-everything quarterback and safety drew the constant attention of opponents. Although McElmurry feels he has a pretty good offense returning – including a promising quarterback – Palmer's absence in the defensive backfield will be missed.
"Palmer was like a safety playing in the linebacker position, he was just all over the place," McElmurry said. "We lost both of our corners, we lost our entire secondary. Up front, we should be solid but the secondary will take some more work."
The Trojans will want to have the secondary playing well by the time Eureka comes to town – but that occurs early in week three. The Lions' speed proved to be a problem for Troy last year in a 50-14 win.
"The last time we had speed, we won the state championship," McElmurry laughed. "That year (1991) we had linemen that were fast. It's amazing what speed does, it covers up mistakes. You get out of position one time and they score. Hopefully, we'll play well position-wise."
Ormiston is penciled in as Troy's quarterback as part of what appears to be a very capable offense.
"He had very few reps (on varsity) but he did a great job in our JV program," McElmurry said about the 5-foot-11, 160-pound junior. "He threw a lot of touchdown passes so he should be pretty solid."
Brian Hammrich, a 6-2, 180-pound senior tight end, highlights returnees at the receiver positions.
Out of the backfield, the Trojans have tough-nosed Jacob Alexander back to rack up yards. Alexander, a 5-7, 160-pound senior, ran for 118 yards in last season's key win at Thompson Falls.
"He had a good year last year partially because defenses were keying on Aaron so much," McElmurry said. "It'll be more of a challenge for him this year. I think he's excited to play. He's a little bigger, a little quicker."
Kody Hoffman, a 6-0, 205-pound junior, will also get carries.
"He played last year in our playoff game against Loyola and did really well both offensively and defensively," McElmurry said. "He's a great addition."
Up front, Troy looks good with four of five starters returning. McElmurry called it "a real strongpoint for us." Tom Roeder (6-1, 200) anchors the line from his guard position along with guard Chris Hoffman (5-7, 210), center Dillon Curry (6-0, 195) and tackle Cullen Metz (5-11, 250) – and all are seniors.
District 7B expands to six teams this season with the addition of Bigfork.
"I know they haven't been very successful in Class A but they have a new coach and they have the numbers and they'll think they can beat anybody," McElmurry said. "Eureka will be very tough with Chad Price back."
Troy opens the season Sept. 4 at home against Darby – and note the early start time of 5 p.m.
Schedule
Sept. 4 Darby, 5 p.m.
Sept. 11 at Mission, 7 p.m.
Sept. 18 Eureka, 7 p.m.
Sept. 25 at Plains, 7 p.m.
Oct. 2 at Superior, 7 p.m.
Oct. 9 at Florence, 7 p.m.
Oct. 16 Bigfork, 7 p.m.
Oct. 23 Thompson Falls, 7 p.m.
Note: State playoff dates are Oct. 31 (first round), Nov. 7 (quarterfinals), Nov. 14 (semifinals) and Nov. 21 (championship).
---