Robert Elmer Brazington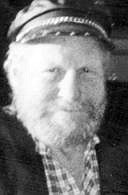 |
August 25, 2009 12:00 AM
Robert Elmer Brazington, 68, of Libby died at 8:20 a.m.  on Aug. 19, 2009 following a long battle with chronic obstructive pulmonary disease.
He was born April 20, 1941, in Twin Lakes, Idaho. In the fall of 1998, he moved to a home in Libby.
Mr. Brazington loved the outdoors – hunting and fishing in the mountains of Montana. He also enjoyed sitting at the local coffee shop to enjoy a cup of coffee with his friends.
He is survived by his wife of 25 years, Claudia (Peterson) Brazington; sister, Velma Munroe of Libby; children, Robert E. Brazington of Nampa, Idaho; Howard Brazington of Texas; William Porter of Seattle, Wash.; Timothy Testerman of Pocatello, Idaho; and Michelle Brazington of Kentucky; eight grandchildren and many nieces and nephews.
The family asks that any contributions can be made to Schnackenberg and Nelson Funeral Home (422 W. Second St., Libby, MT 59923) to help with final expenses.
---