Logger girls soccer team works hard to find success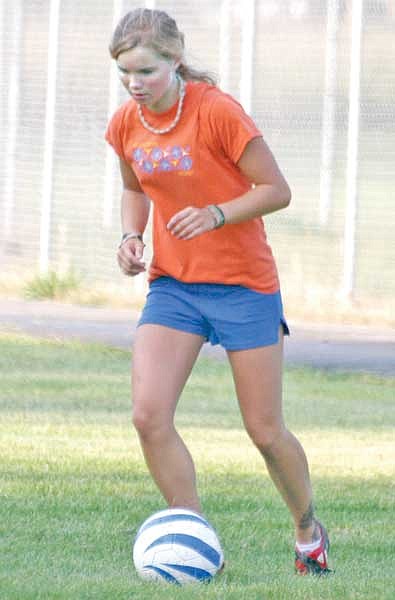 Brad Fuqua/The Western News Libby's Anna Valentine is the defending scoring champ in Class A.
by
Brad Fuqua & Western News
|
August 25, 2009 12:00 AM
On a windy day in Billings, the Libby High School girls soccer team experienced a painful elimination from the state playoffs after seeing a 2-0 lead turn into a 3-2 overtime loss. It was a disappointing conclusion to a stellar season that included the Lady Loggers' first-ever conference title and a victory over Whitefish.
Looking back, second-year coach Matt Warner believes better conditioning could've made a difference. Now with preseason drills under way, the girls are putting in a lot of hard work to make sure other teams are not able to run them down.
"We need to take advantage of every opportunity," Warner said. "Last year, if the girls had been in better shape, it would've made a difference. I'm trying to push them to be in the best shape they can be."
This year's squad includes seven returning starters, including Class A's top scorer last year in Anna Valentine.
"Anna is just a phenomenal player but we have other phenomenal athletes," Warner said. "She was the star because of the scoring. We've got the talent, it's just putting the team together to be the strongest we can be."
Jaime Gilden, who compiled a lot of assists with her set-ups for Valentine, also returns. Audra Poppen, Kaila Forster, Lindsay Kehn and Ashley VanHoose are back as well along with LaRona Luscher and Mechelle Wilson, who were part-time starters a year ago.
Jenny Johnson and freshman Sarah Nash are among the other players expected to step in and impact the varsity lineup.
Poppen could be a possibility at goalkeeper.
"We do have some good speed," Warner said. "They'll be a team with a mix of speed, hard work and skill. They play so well together and I can move someone around to any position."
Twenty-two players came out for the sport, including six freshmen.
"We do have some good depth to give them a break," Warner said. "Even some of the freshmen have the potential of working into a varsity position."
Whitefish is expected to be strong again this season within a conference that should be competitive. Libby will see a lot of conference games early on in the schedule on the road and then finish with those same teams late at home.
"That's the thing, we play conference games early," Warner said. "You want to see that competition throughout the season."
The season opens Aug. 29 at Stevensville. The first home game is scheduled for Sept. 4 against Belgrade.
Schedule
Aug. 29 at Stevensville, 1 p.m.
Sept. 4 Belgrade 6 p.m.
Sept. 5 Park (at Troy), 10 a.m.
Sept. 12 at Columbia Falls, 1 p.m.
Sept. 17 at Bigfork, 5:30 p.m.
Sept. 19 at Polson, 1 p.m.
Sept. 24 at Bonnrs Fy., 6 p.m. (PST)
Sept. 26 at Whitefish, Noon
Sept. 29 Columbia Falls, 5:30 p.m.
Oct. 3 Bigfork, 11 a.m.
Oct. 8 Polson, 5:30 p.m.
Oct. 10 Whitefish, Noon
Note: The playoffs open on Oct. 17 with the first round followed by the semifinals on Oct. 24. The state championship is scheduled for Oct. 31.
---