LHS gridders show potential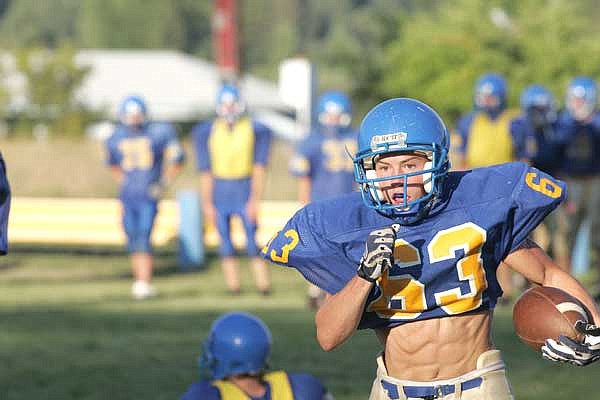 Paul Sievers/The Western News T.J. Benson, wearing a No. 63 practice jersey during last weeks' scrimmage, should get plenty of carries this fall.
by
Brad Fuqua & Western News
|
August 25, 2009 12:00 AM
Finishing the season with a 4-4 overall record and staying home during the playoffs was out of character for the Libby High School football program. The Loggers had established themselves as postseason mainstays in previous years under head coach Neil Fuller.
But just because the Loggers finished with a mere .500 record, Fuller had high praise for the team considering that he had to plug a lot of players into the lineup that were really not ready for varsity ball.
"You look at being a play or two away in each of our games from being 9-0 and going to the playoffs," Fuller said. "And that was a young, young group. We're excited this year because these kids have the potential to do some neat things."
Bring up the topic of depth with Fuller and he'll immediately talk about his linemen. Libby returns most of its big men.
"They had a great camp down at Stevensville and they're really playing good football for us," Fuller said. "They're the most energetic group we have and the most exciting thing about it is we have six kids back that started and played for us on the offensive line."
With those big boys clearing a path for players out of the backfield, Libby expects to move the ball.
"We're going to be able to run the football this year, which we weren't able to do very well last year," Fuller said. "That's always something that we've been able to do fairly well – run the football. And that's just going to enhance our passing game."
Sean Lundin returns as the only senior on the line with extensive varsity experience. Lundin (5-foot-10, 180 pounds) could be found often in the weight room and Fuller said he's showing great leadership. James Nash returns for his junior season. Nash (6-0, 185) was lost early last season in a game against Frenchtown and underwent shoulder surgery last winter.
Among the rest of the linemen corps are juniors Tyson Butler (5-7, 190) and Cole Lauer (6-0, 200), along with sophomores Joey Emery (6-2, 185), Sawyer Zimmerman (5-11, 225), Cody Morrison (5-9, 160), Rigo Ibarra (6-0, 210), Karson McCollum (5-11, 225) and John Dixon (6-1, 150).
"We're not huge but the kids have good feet, they're athletic and really enthusiastic which is really cool," Fuller said. "I've never had a group as a whole of linemen so fired up. They're just excited that we're going to be running the ball this year."
Another player excited for the season to get started is tailback T.J. Benson, who will likely see some good holes to rack up yardage and move the chains.
"He's looking really tough out there," Fuller said of the 5-7, 155-pound senior, "and seems to be healthy. He had foot surgery late last spring."
In addition, junior Dietrich Coleman (5-6, 145) will get some carries. At fullback, sophomore Josiah Coker (6-0, 175) tops the depth chart.
"Our backfield won't have much depth but the first group is solid," Fuller said.
Junior Kelly May steps into the starting job at quarterback. May (6-2, 160) started one game for the Loggers last season when Joel Fuller went through injury problems.
"He throws the ball very well and he has good running ability but what he needs to do is develop more confidence there," Coach Fuller said. "As he develops more confidence running the football, it's just going to make our offense that much more dynamic. It's going to open up things for everybody else."
May's targets include junior Alex Cislo (6-5, 200) at tight end and junior Kody Berget (5-10, 175) at wide receiver.
"Alex started at defensive end last year and also played quite a bit of tight end for us," Fuller said. "Kody, he's doing a great job catching the ball and he's one of the kids that really put in a lot of extra time in the weight room and it'll pay off on both sides of the ball."
Junior Tyler Troy (5-10, 155) returns after not playing during his sophomore year. Sophomores Tate Wilson (5-10, 140), Philip Nelson (5-11, 165) and Seth Hughes (6-0, 170) will also catch balls.
"With our ability to run the ball and throw it, it's going to be an advantage for us if we can establish good balance," Fuller said.
Fuller got an idea of how the conference competition sits during a summer camp at Stevensville.
"We had some great success against them and all four teams were pretty well-balanced," said Fuller, referring to the Loggers along with Whitefish, Ronan and Columbia Falls. "No one team is heads and tails over the other. It should be a lot of fun."
Polson was one school that he did not see at Stevensville but Fuller expects the Pirates to field a good team.
The Loggers will mix things up on defense this season.
"Defensively, we're changing things up a little bit from what we've done in the past," Fuller said. "We're moving more to a gap-controlled type defense. We're not very big by any stretch of the imagination but a lot of the same kids that are playing on offense will go both ways."
On the defensive front, Fuller said his top four included Nash, Lundin, Lauer and Cislo. In addition, senior Kyle Sweedman (6-0, 170) is out for football and is expected to move into major playing time as he develops an understanding of the system.
Junior Dean Willey (5-9, 160), senior Justin Thrailkill (5-5, 175), Coker and Benson will see time at linebacker. In the secondary, top players include Nelson, Troy and Berget, along with Benson when he's not playing up on the ball.
"These guys this year have the potential to do some good things," Fuller said. "The key for us is to play well and improve each game. If we can improve a little each game and do a good job getting ready for the conference, we should be in good shape."
On special teams, the Loggers are experiencing a first with a female penciled in as a varsity starter. Kaila Foster, a multi-sport athlete who is also on the girls soccer team this fall, is currently tops on the depth chart at placekicker.
"Kaila Forster came up to me in the weight room and asked if she could try kicking," Fuller said. "I said, 'sure,' so we take her out and she kicks a couple of 30-yard field goals. Right now, she's our No. 1 kicker. She'll kick extra points and field goals and we'll have somebody else kicking off. But we're excited to have her; she has a lot of courage getting out there with all these knuckleheads."
The nonconference schedule includes Timberlake (Idaho), Frenchtown, Corvallis and Hamilton – all quality opponents. The home opener will be Sept. 11 against Corvallis and the Loggers' conference opener will be Sept. 25 at Polson. Libby's regular-season finale is Oct. 23 against nonconference foe Lethbridge, which replaced Bigfork on the schedule. Bigfork dropped down to Class B.
Schedule
Aug. 29 at Timberlke, 7 p.m. (PST)
Sept. 4 at Frenchtown, 7 p.m.
Sept. 11 Corvallis, 7 p.m.
Sept. 18 Hamilton, 7 p.m.
Sept. 25 at Polson, 7 p.m.
Oct. 2 Columbia Falls, 7 p.m.
Oct. 9 Whitefish, 7 p.m.
Oct. 16 at Ronan, 7 p.m.
Oct. 23 Lethbridge, 7 p.m.
Note: State playoff dates are Oct. 31 (first round), Nov. 7 (quarterfinals), Nov. 14 (semifinals) and Nov. 21 (championship).
---