Honors long overdue: Veteran, now 81, receives decorations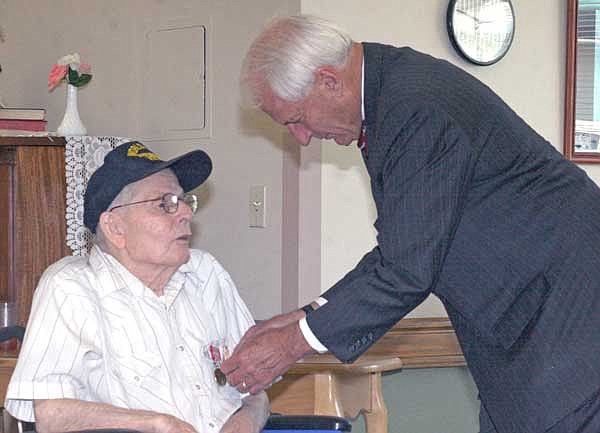 Canda Harbaugh/The Western News Jack Cunningham receives his long overdue honors Monday from Montana Lt. Gov. John Bohlinger.
by
Canda Harbaugh & Western News
|
August 25, 2009 12:00 AM
Jack Cunningham never talked about the horrors he witnessed while moving through the treacherous Pacific Ocean during World War II in a cargo ship full of food, explosives and fuel.
Bombed warships still lie beneath the white sand beaches at Leyte where Cunningham participated in liberating the Filipino island from Imperial Japan. It was over six decades ago, but Cunningham no doubt remembers Japanese warplanes reigning terror on his comrades while "Amy Howell," his ship, was anchored off Red Beach.
Though Cunningham's left eye droops from a stroke and his weathered 81-year-old body must be wheeled around, his smooth face and protruding ears belong to the same 18-year-old man who posed for a passport photo in 1944 as a merchant crewman.
The particulars of what he did during those two years as a young adult thrown into a world war is a mystery to everyone but Cunningham himself.
It took decades of silence and months of networking and paper pushing, but Cunningham was finally recognized Monday for his service in World War II. He was given the decorations he earned years ago.
"Today we set aside this time to honor our friend, Jack," Montana Lt. Gov. John Bohlinger said Monday at the Libby Care Center where Cunningham resides. "… Combat veterans, I hold you in great honor, in great esteem."
Up until 1988, Cunningham and other merchant mariners were considered civilians even though they risked their lives to supply soldiers with necessities, many times traveling through troubled waters without armed escorts. Even after a law was passed granting members of the Merchant Marines benefits of a veteran, the bureaucracy of proving service has been daunting for many.
"It's unfortunate that the medals you have been awarded were so late in coming," Bohlinger said as the media filmed and flashed pictures of Cunningham. "Sometimes records get lost and that's unfortunate, but today we're able to make this presentation."
Cunningham can barely speak these days – the spindly fingers of cancer spread past his pancreas and into his lungs, and his body is too weak for treatment. Family said doctors give him four months.
He withdrew since learning his diagnosis, his close friend, Florence Miller, said.
On Monday, however, he spoke briefly to Bohlinger before the ceremony and graciously accepted the medals as the lieutenant governor pinned them to his shirt.
"Even if Jack can't vocalize well, I know it's in his heart that he really appreciates everything that has taken place," Miller said.
His son, Jack Cunningham IV, made a surprise appearance from Sacramento, Calif.
"The doctors said and the people at Libby Care Center said it's the most animated they have seen him in months," Cunningham Jr. said. "All the attention and me being there and everything else – it was the last biggest event in his life."
Cunningham Sr. said that he was "overwhelmed" when he heard the news less than two weeks ago that he would receive his decorations.
The series of events began with Gene Young, whom Cunningham had become close friends with years ago when they worked security for industrial sites in Oregon.
"Like most of that generation, he didn't open up much about his past," Young recalled. "He mentioned a couple of times about World War II and being in the Merchant Marines, but it was just a fleeting moment."
When Young learned that Cunningham was having health problems, he decided to do some research. He began at the local library and talking to his military friends, and moved up to a congressman's office and then to federal agencies. Things didn't really start moving, though, until he made contact with a woman in the Homeland Security Bureau of Records.
It took months to find Cunningham's service records, but Young said it was worth it. Cunningham, he said, deserves the recognition.
"All my life I've seen veterans not getting what they were promised – not what they're due," Young said, his voice wavering, "and knowing that these guys and ladies are way too proud to speak for themselves. I wanted to chip in and bring it to light."
Young never dreamed that Kandis Peterson of the Libby Care Center would be able to get the governor's office to perform the award ceremony. It was the icing on the cake. 
Cunningham soaked up the attention Monday with his son, who is also a veteran.
"You, Jack, for your service, we'd like to say thank you," Bohlinger said. "For your son, who followed that wonderful example you've established, we say thank you. It's a wonderful lesson for all."
---