WN Hiking Series: Granite Creek Trail to Waterfall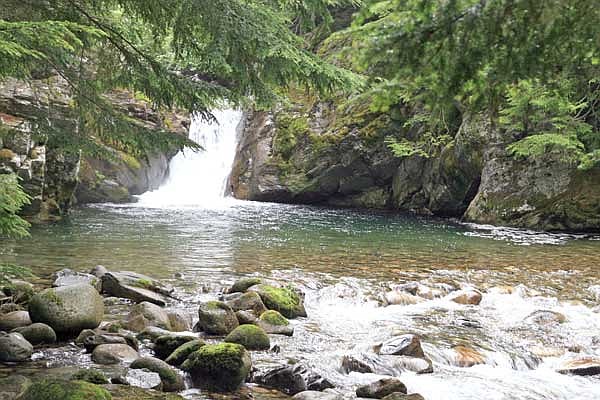 Brad Fuqua/The Western News A waterfall on Granite Creek provides a nice spot for lunch during a day hike.
by
Brad Fuqua & Western News
|
August 18, 2009 12:00 AM
"Be careful, it's slippery," my wife called out a split second before I fell to my butt and slid violently down an embankment.
Yes, it's all part of hiking – you never know what could happen. But even though my backside, arms and legs were muddy, the payoff at the end was worth it when we came upon a beautiful waterfall in the middle of what resembled a green, wet rain forest.
The Granite Creek Trail near Libby in all covers more than 12 miles if you complete the entire route. But just one weekend after finishing my first 10-mile haul, I decided to do a shorter excursion. As a result, we went two miles in to the first waterfall, which includes a pool of clear, crisp water that looked like it would be great for swimming on a hot day.
The route was damp with rainfall covering the region overnight. In fact, it sprinkled off and on during our trip, which covered about four hours in all (yeah, we went pretty slow, shooting photos, trying to identify plants, trees and berries, and enjoying lunch at the waterfall).
The trail is fairly easy to hike with only a few climbs that get your heart beating fast. In the last half-mile before the waterfall, you reach a point where you must cross Granite Creek. A big log connects the two banks and serves as a way to get across but on the other side, you must maneuver yourself down an embankment. With the wet conditions, it was muddy and slippery.
Before reaching the falls, you go through an incredible stretch of forest … and it was green everywhere. Although we didn't see much, the region looks like it would be very good for wildlife viewing.
On an interesting side note, Granite Creek flows from Blackwell Glacier – the lone remaining alpine glacier in the Cabinet Mountains.
We passed three other groups of people on this Sunday hike, so it seems to be a popular area. At least two of those groups appeared to be overnighters – the trail serves as an access point into the Cabinet Wilderness Area.
For those who continue on, the trail ends at Granite Lake and features a dramatic cascading waterfall. A magnificent view of A Peak can also be seen towering over the lake. Some hikers choose to go off-trail to reach places like Klatawa Lake, Double Lake, Vimy Lake, Wishbone Lake and Blackwell Glacier.
The trailhead features parking for several vehicles. The trailhead sign is not visible from the lot – you'll find it about a third-of-a-mile in.
Granite Creek Trail to the Waterfall
Location: Kootenai National Forest, Libby District
USFS Trail No.: 136
How to Get There: From Libby, take Shaugnessy Hill Road and turn left at the three-way intersection at the top of the hill. After about a half-mile, take a right onto Flower Creek Road 128 (as of last weekend, it was not marked). After a short distance and a few curves in the road, go left onto Granite Creek Road 618 and continue about eight miles to the trailhead. The last couple of miles are unpaved.
Round-Trip Distance: Approximately 4.0 miles.
Difficulty: Easy
---