Robert 'Bob' Barnes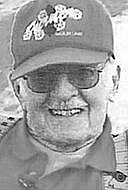 |
August 18, 2009 12:00 AM
Robert "Bob" Barnes, 81, of Libby died Tuesday, Aug. 11, 2009 following a battle with asbestosis.
He was born Dec. 2, 1927 in Whitefish to Allen and Yvonne (Scott) Barnes. He was raised and educated in Whitefish. He served in the U.S. Marine Corp from 1946-47 and again during the Korean War from 1950-52.
Mr. Barnes worked for Great Northern Railroad as a telegraph operator, owned and operated the Conoco gas station and bulk plant in Libby, and worked for Zonolite (W.R. Grace) and for St. Regis Paper Co. (Champion) until his retirement.
He was an avid rancher/horseman in the Libby area for years, enjoyed fishing trips and loved downhill skiing. Family and friends will remember his caring, gentleman-like manner, as well as his great sense of humor.
He was preceded in death by his wife, Tryn N. (Johnston) Barnes; father, Allen; mother, Yvonne; and stepmother, Vivion.
Survivors include his three children, Jini Huth of Libby; Tracie (and Joni) Barnes of Libby; and Chris Andrusco-Hippsley (and Allen) of White Rock, British Columbia, Canada; two brothers, Ronald (and Joey) Barnes of North Ridge, Calif.; and Anson (and Sally) Barnes of Whitefish; five grandchildren, Russ (and Brenda) Kirkham of Battleground, Wash.; Anika Huth of Missoula; Juli (and Brent) Cooper of Libby; Justin Barnes of Seattle, Wash.; and Holly Decker-Tosney (and Roland) of White Rock, British Columbia; six great-grandchildren, Lynsey, Kaley and Ali Kirkham of Battleground, Wash.; and Jake, Ben and Rowan Tosney of White Rock, British Columbia; and several extended family members.
Services will be held at 11 a.m. on Saturday, Aug. 22, 2009 at the Libby Christian Church at 100 Kootenai River Road in Libby. Visitation will be from 1-8 p.m. Friday, Aug. 21. Memorials may be given to the Libby Hospice, VFW or Wings.
Schnackenberg & Nelson Funeral Home handled arrangements.
---