Memories flow during McCormick's centennial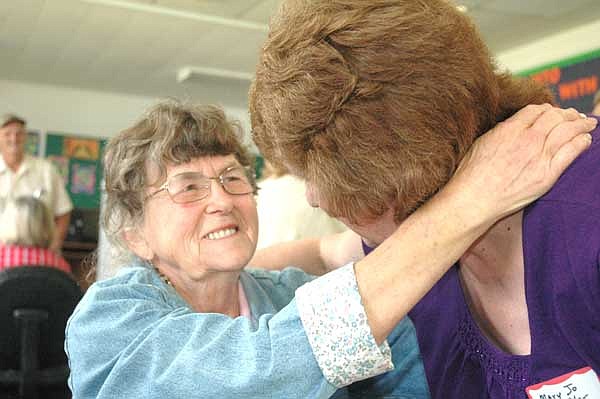 Gwen Albers/Hagadone News Network Kathryn Coats Smith of Bonners Ferry, Idaho, left, greets Mary Jo Sheffler Pepiot of Troy during Saturday's event.
by
Gwen Albers & Hagadone News Network
|
August 18, 2009 12:00 AM
When 79-year-old Juanita "Neta" Randolph Sheffler attended McCormick School, the one-room schoolhouse had no electricity or indoor plumbing, she walked five miles to school and after eighth grade, the Troy woman quit to work in the woods.
That was the norm in the mid-1940s.
It was different for alumni Andrakay Hoisington, a 2007 Bonners Ferry High School graduate who is studying political science at University of Idaho with plans to attend law school. When the 20-year-old attended McCormick School, there were computers, and the outhouses were long gone.
Those were just a few of the stories shared by more than 70 alumni and guests who attended McCormick School's 100th anniversary potluck reunion on Saturday. When school reconvenes for the fall semester, 22 students in kindergarten through eighth grades are expected.
While visiting and sharing stories, many alumni seemed to embrace one common feeling.
"This was a great life," said Elizabeth "B.J." Harper Ulloh, a Priest River, Idaho, resident who attended the school in the early 1950s. "It was easy. There was no peer pressure in the whole school."
"We were poor kids and there were no rich kids who made us feel poor," added Ulloh's sister, Colleen Harper Johnson, who lives in Anchorage, Alaska.
Founded in 1909 on Old Highway 2 in Montana near the Idaho line, the school is believed to have been founded by the McCormick family, according to former school board member Mick Loros.
"They had several children and there were other families with a total of six kids and there was no school," Loros said. "They decided to get together to see if they could get a teacher hired."
There were times, including in the 1920s and late 1950s, that the school was limited to four grades so the other students went to Troy School District, Loros said.
Rosanna Sheffler Zirkle remembers transferring to Troy for seventh grade because there were too many students at McCormick School.
"I was scared to death," said Zirkle, a Troy resident. "That was the big city."
The McCormick School's largest enrollment was 48 students, in the late 1970s, Loros said.
Former bus driver Donna Munyan talked about driving the district's only bus to the bottom of Yaak Hill to the Idaho state line.
"I loved the people and I loved the area," Munyan said about her 14 years of transporting students to and from school.
Mary Jo Sheffler Pepiot of Troy, who is Neta Sheffler's daughter and Rosanna Zirkle's sister, attended McCormick School from 1952-60.
"I loved it," Pepiot said. "The people were sweet and everybody loved you. The older kids were always helping us."
"It's still that way," said district clerk Peggy Harrell.
---