Back to School: Communication with parents on minds of Libby educators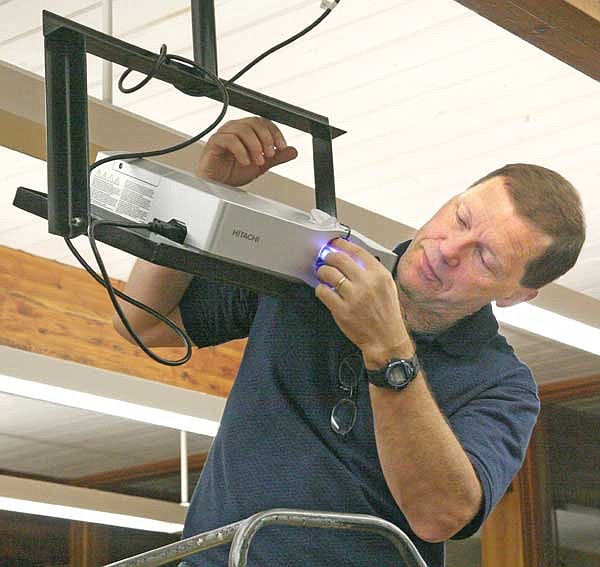 Brad Fuqua/The Western News Libby Middle School assistant principal Keith Ivers installs a digital projector last week in a classroom.
by
Brad Fuqua & Western News
|
August 18, 2009 12:00 AM
School bells in Libby will be ringing on the morning of Aug. 31 as children in grades 1-12 head back to the classroom.
While students may notice little change on any of the four campuses, school officials hope parents will feel more welcome when they pay a visit. A Family Resource Center at each school will be added in an effort to improve communication.
"We're excited about having that," Libby High School principal Rik Rewerts said. "It was one of the big goals that the district set for itself and this was one way to accomplish that."
The positions are expected to be filled soon. At LHS near the main entrance, a new room complete with couch and computers was constructed for the Family Resource Center.
"We're trying to do a better job of reaching out to parents and keeping them informed," said Ron Goodman, Libby Middle School principal. "We want parental involvement to become more meaningful."
Various other types of improvements have been made here and there, including the addition of document cameras and digital projectors in classrooms. The cost-effective tool allows teachers to project any document on the marker board at the front of the classroom.
"Teachers, once they start using them, they'll never go back … teachers love them," Goodman said.
As an example, a teacher could choose to illustrate to the rest of the classroom what a great job a particular student did on an essay question. The teacher could walk over to the student's desk, grab the paper, and place it on the document camera. The rest of the class would instantly be able to see it.
If hooked up to a computer, the new tool could also be used to project educational web pages to an entire classroom.
As far as staff changes, the district experienced only a few changes. Rewerts reported no teacher changes at all at the high school. Wayne Baker has taken on the responsibilities of activities coordinator, a position formerly held by Dolly Crum.
New teachers at the upper elementary/middle school building include Bill Moe and Nik Rewerts – both fifth-grade teachers.
Rewerts was a longtime substitute for science teacher Tom Gallagher, who is serving with the Montana Army National Guard in Iraq. Moe taught third grade last year at Asa Wood.
Over at Libby Elementary, Scott Beagle enters his first year as principal in place of Marjorie O'Brien-Johnson. Beagle is a third-generation Libby resident who taught junior high math in Libby for 11 years and has an active past within the school system, including duties as president of the Libby Education Association.
Three new teachers join the elementary school's staff – Lacie Farmer, Michelle Hamm and Jamie Hunt.
Farmer is a Libby High School graduate who will teach second grade. She has an established association with the school district as a long-term substitute teacher and over the past couple of years has been involved with Provider Pals.
Hamm will teach first grade while Hunt joins Farmer as a second-grade teacher. Both are new to the school district.
One of the biggest issues at Asa Wood continues to be the aging building.
"We're still in transition there and still talking about whether we're going to go after a new building or not," he said.
Beagle said the school's goal is to maintain an 18-to-1 student-to-teacher ratio.
"We are looking at close to 85 to 90 students per grade level," Beagle estimated last week. "The third grade is pretty large, I think 100 or larger. And we have kind of a small kindergarten class coming in."
In the big picture, Rik Rewerts said the district wants to do everything it can to motivate students to earn their diploma.
"Our goal is let's take a look (at early risk behaviors) and partner with the parents so the parents are a part of those decisions to help keep their children in school," said Rewerts, who has been involved in Libby education for 29 years now. "Currently, those kids can be identified awfully early."
The first day of school for students in grades 1-11 is Monday, Aug. 31. Kindergarten students at Asa Wood will attend their first day on Friday, Sept. 4.
---