Shakespeare program in Libby Aug. 16-17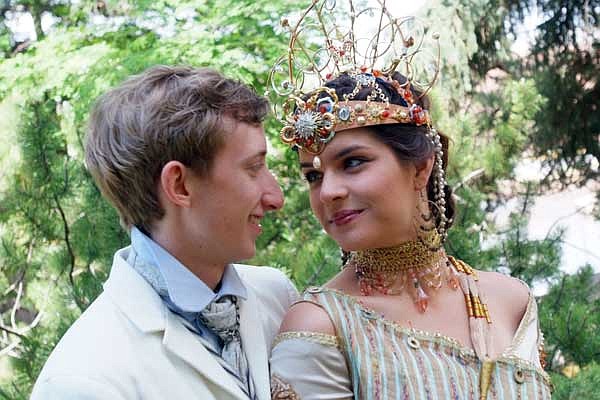 Winslow Studio Valentine (Danny Luwe) and Silvia (Sarah Loveland) in the Duke's court in the Montana Shakespeare in the Parks' production of "The Two Gentlemen of Verona."
by
Western News
|
August 13, 2009 12:00 AM
Montana Shakespeare in the Parks returns to Libby this summer with performances on Sunday and Monday evening at the middle school amphitheater.
"The Two Gentlemen of Verona" will be presented at 6 p.m. Sunday, followed by "The Tempest" at 6 p.m. Monday. The performances are free to the public.
In its 37th season, Montana Shakespeare in the Parks provides professional entertainment at no cost to the public to communities throughout Montana, northern Wyoming, eastern Idaho and western North Dakota.
"The Two Gentlemen of Verona," which is one of Shakespeare's early comedies, is a romp offering a variety of comic devices for which Shakespeare ultimately would become famous. These include women dressed in men's clothing, lovers climbing up and down rope ladders and running from outlaws, not to mention a couple of clowns thrown into the mix as two sets of lovers work their way through the complexities of learning the difference between infatuation and love.
"As far as I'm concerned, the meat lies with the idealism and also the imperfections of young love. That time of life when love is idealized and changeable," said Will Dickerson, who is directing his first production for the company after having toured as an actor for two seasons and serving as verse coach for the past three years.
"The Tempest," which is believed to be the last play Shakespeare wrote by himself and also his farewell to the world of the theatre is a dense, rich story of revenge and forgiveness that hurls the audience into a world filled with spirits and imaginative characters.
Prospero, with help from his trusted spirit Ariel, uses his wizardry to plan revenge on those who deposed him from his dukedom years before. The play ultimately ends with Prospero forgiving all as he buries his magic books and returns to his native land.
The role of Prospero will be played by Montana Shakespeare in the Parks veteran Gordon Carpenter, who first toured with the company in 1983.
"Initially what attracted me to this play was Prospero's journey from revenge to forgiveness particularly set in the context of this being one of the last plays that Shakespeare wrote," said artistic director Joel Jahnke, who will direct the show. "The idea that this is his goodbye to the theatre is certainly tempting and I find those particular passages compelling and very touching."
Audiences are encouraged to show up prior to curtain time. Picnics, lawn chairs and blankets are welcome.
---