Libby youngster fighting leukemia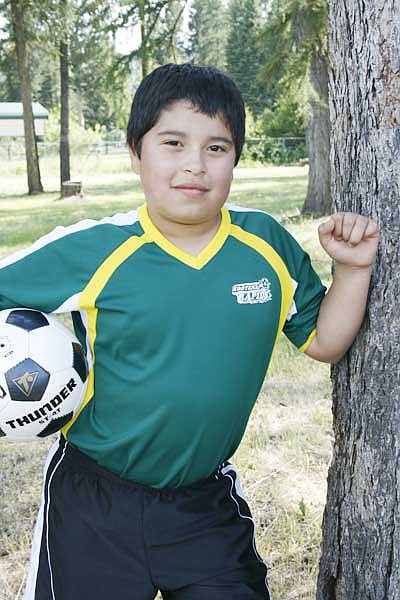 Courtesy Giovanni Cano, 10, of Libby is fighting leukemia and an effort is under way to help the family with expenses. Fundraising activities are scheduled for Aug. 23 — including dinner at Libby Senior Citizens Center and a soccer camp at Asa Wood School.
by
Western News
|
August 13, 2009 12:00 AM
An active 10-year-old who showed no signs of an illness, Giovanni Cano suddenly finds himself in the fight of his life. The Libby youngster was diagnosed with leukemia and is now receiving treatment at Sacred Heart Children's Hospital in Spokane, Wash.
Giovanni's other, Alma Cano, noticed a lump on her son's neck and local physicians thought they were treating an infection. But after treatments of antibiotics, the lump didn't go away. The devestating news that Giovanni had leukemia followed and he was immediately flown on a life flight to Spokane.
"A normal person is supposed to have less than 10,000 white blood cells … Giovanni had more than 670,000," Alma said.
Sylvester Cano, Giovanni's father, is still in shock.
"I would ask him, 'do you feel bad?' And he would say, 'no, I feel OK,'" Sylvester said.
Giovanni's good health and his lack of some of the usual signs of the disease – such as excessive bruising – made it difficult for doctors to detect. The middle child in the family, he is an avid soccer fan and player. Both he and his older brother, Edgar, played with the Kootenai Rapids soccer program.
The Canos are struggling with being separated.
"Alma is staying at the hospital with Giovanni, and won't leave his side," family friend Deanna Shaw-Berget said. "Sylvester and the other boys are keeping things going at home and traveling to Spokane on the weekends."
Giovanni's younger brother is 6-year-old Ivan, and the family is expecting a new baby this fall.
Because of the high white blood cell count, doctors in Spokane immediately started a procedure to "wash his blood." After two procedures, Giovanni's white cell count dropped to less than 100,000, but that is still much higher than normal.
Giovanni was recently moved from intensive care to a pediatric oncology unit where he is just beginning what will be a month of intensive, aggressive treatment.
In addition to those blood treatments, Giovanni also had a spinal tap to see if the cancer cells are in his spinal fluid. At that time, doctors injected chemotherapy into the spinal column as a precaution.
The family was thankful to hear that his spinal tap results showed no cancer in his spinal fluid. A second round of chemotherapy was scheduled early this week. If all goes well, Giovanni will remain in Spokane for a month and will then receive regular treatments for a year.
Originally from Mexico, the Canos have lived in Libby for several years. Sylvester runs his own contracting business. His clients include Plum Creek and the Forest Service to complete thinning and planting projects but like so many others, the recent recession has impacted the bottom line.
An effort is under way asking Libby residents to help the family in a time of need. Shaw-Berget noted that while the family does have insurance, they are going to have many expenses that will not be covered.
"They are just the nicest family … real quality people," family friend Bruce Sickler said.
Two fundraising activities have been scheduled for Sunday, Aug. 23. A soccer camp with Libby High School's state championship team and former semipro player from Mexico, Marcos Vences, will run from 1-5 p.m. at Asa Wood School.
Following at 6 p.m. will be a fundraising dinner at the Libby Senior Citizens Center. A silent auction is planned for that evening.
All proceeds will go to the Cano family.
For those who would like to help or donate, call Sickler at 293-4660, Shaw-Berget at 293-1287 or Helen Cruz at 293-9356.
---