Treasure Tones releases two CDs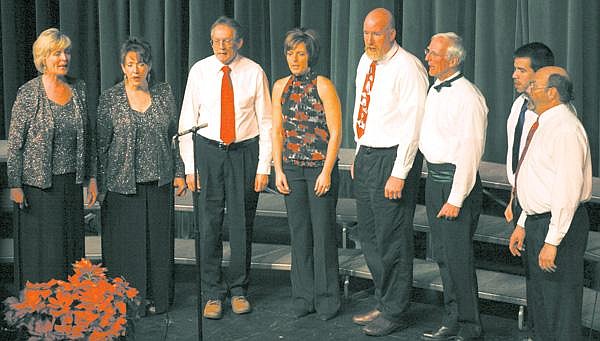 File/The Western News The Treasure Tones performs last year in Libby.
by
Western News
|
August 6, 2009 12:00 AM
The Treasure Tones, a 20-voice choral ensemble based in Libby, has released two compact discs, director Phyll Minde-Mackey announced.
The group spent a month selecting, rehearsing and recording 40 of their favorite arrangements. Frank Chiaverini of Northwest Music in Troy served as the recording engineer for the project and contributed to the production by adding guitar accompaniment.
The first CD, entitled "Tones Treasures," contains a variety of Broadway show tunes, patriotic songs and novelty numbers. The second CD, "We Need A Little Christmas," features several yuletide anthems, expressive spirituals and some small ensemble selections.
Soloists include Diane Rewerts, Suzy Rios, Amy Smart, Kathy Ague, Dan Thede, Cliff Christenot, Dave Swanson and Rich Burns. The "FAB Four" (Four Average Baritones) of Thede, Christenot, Swanson and Bob Sandman, add their unique charm in a medley of their memorable hits.
The Treasure Tones were organized in 1964. Although personnel changes have occurred over the years, many singers have harmonized together for 20-plus years. Their musical repertoire consists of more than 500 arrangements tailored to fit a wide variety of occasions.
CDS ($12) are available at Mountain Meadows, Rocky Mountain Music, Rivermist and The Printing Press in Libby, and Northwest Music in Troy.
---