Libby native returns to roots with concert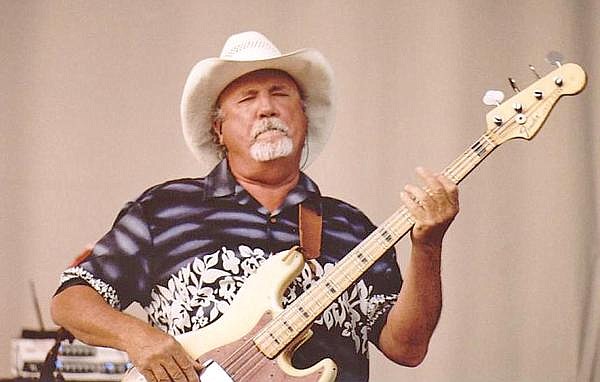 Courtesy/Mission Mountain Wood Band Steve Riddle of the Mission Mountain Wood Band performs last month in Reno.
by
Brad Fuqua & Western News
|
August 6, 2009 12:00 AM
A group of Montana boys getting back to the small town of one of its band members … helping out with a good local cause … and a chance to play the links at Cabinet View, float the Kootenai and maybe even sleep on the ground at Pioneer Park.
The Mission Mountain Wood Band will arrive next weekend with those thoughts while playing as one of the featured bands at WOODROCK '09: Rockin' the Ball Park. The fundraiser event hosted by the Libby High School Class of 1984 will take over Lee Gehring Field in Libby on Saturday, Aug. 15.
"Mission Mountain's always kind of been a rallying point for a very large peer group," said Steve Riddle, Libby native and band member. "We've always been proud of our music and proud to play it. I think over the years, it turned into more of a rallying point than a musical experience. When Mission Mountain played, well, everybody thought, 'let's go because I'm going to know everybody there.'"
The event serves as a fundraiser for the American Legion ballpark, Turner Mountain Ski Area and the LHS Class of 1984's Hanley Memorial Fund.
Riddle expects a block party atmosphere with old friends when the veteran band hits the stage. Although Riddle no longer has any immediate family in Libby, his best friends remained here and he said it would always be a special place for him.
"We're all very aware of the fact that it's my hometown," Riddle said. "When we were younger and the Mission Mountain Wood Band played a lot – we'd do 300 cities a year across the country – we would go from one city into the next. But Libby was never that way. Libby has always been a very special place because it's my hometown."
As such, the band plans to put on an exceptional performance.
"Everybody's on top of their game. We'll get there early and leave late," Riddle said. "We're very conscious of what goes on there because it's a hometown (of a band member) and we don't want to treat it like a one-nighter."
Riddle was born and raised in Libby and characterized himself as Andy Griffith's "Opie" because of his dad's job as sheriff. His mother taught school at Asa Wood and the family lived in a house right in the middle of town. Riddle graduated from LHS with the Class of 1969 and then continued his education at the University of Montana.
The Mission Mountain Wood Band formed in the early 1970s and developed a strong following while on tour for 10 years. The band has shared the stage with legends like the Allman Brothers, Nitty Gritty Dirt Band and the Grateful Dead. From its early days of rock and "hippie jam," the band has branched into bluegrass and country to find mass appeal.
In 1987, band member Terry Robinson – who was playing with an offshoot called the Montana Band – was killed in a plane crash near Flathead Lake. Mission Mountain reunited in 1992 and has played various venues – including past fundraisers in Libby. The band's last appearance in Libby was three years ago.
Four of the five original members play in the band – Riddle from Libby, Rob Quist from Cutbank, Christian Johnson from Kalispell and Greg Reichenberg from Billings. Newcomer Tim Ryan hails from St. Ignatius, located near the Mission Mountains – which served as the origin of the band's name.
---