Rhea Marie Norvell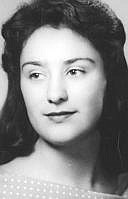 |
August 4, 2009 12:00 AM
Rhea Marie (Davis) Norvell, 67, of Libby died Sunday, Aug. 2, 2009 at Libby Care Center.
She was born Nov. 21, 1941 in Kalispell to Ernest and Regina Davis. She married Karl "Bud" Norvell on Sept. 19, 1959 in Libby.
Mrs. Norvell's early years were filled with hard work and she developed a reputation for her "special" potlucks and home-style cooking. She enjoyed times with her family, camping and fishing at McGinnis Meadows, pool, bowling, softball and drives through the Libby area. She and her husband were devoted to the annual American Legion Cross Maintenance, as well as cooking for numerous funerals for local community members.
Mrs. Norvell was preceded in death by her father, Ernest Davis; mother, Regina Davis; husband, Bud Norvell; and brother, Phil Davis.
Survivors include her daughters Annamarie Norvell of San Ramon, Calif.; Karla Norvell of Denver, Colo.; and Marillee Brown and husband Paul of Libby; grandchildren, Kieran Norvell of San Ramon, Calif.; and Cooper Brown of Libby: sisters, Barbara Messick and husband Earl of Libby; and Regina Edgar and husband Jerry of Maui, Hawaii; a brother, Bruce Davis and wife Carnan of Libby; a brother-in-law Dick Barrett and wife Phyllis of Fresno, Calif.; exchange student son Ruy Reiter of Fort Lauderdale, Fla.; stepgrandchildren, Jennifer Poehls and family, Austin Canavan, Blake Canavan, Darby Brown and Cody Lamey; and many nieces and nephews.
Services will be Thursday, Aug. 6 at 11 a.m. at the Schnackenberg & Nelson Funeral Home Chapel in Libby. Family and friends may call on Wednesday, Aug. 5 from 1-8 p.m. at the funeral home.
---