LHS boys third in own track invite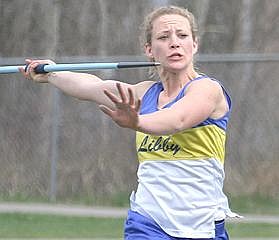 Brad Fuqua/The Western News The Lady Loggers' Stephany Kluver gives her all during the javelin competition on Saturday at the Libby Invitational. Kluver had a throw of 116 feet, 1 inch to take first place.
by
Brad Fuqua & Western News
|
April 28, 2009 12:00 AM
Seth Wright finds himself in his own world when it comes to the high jump.
The Libby High School senior upped his own Logger record in the event on Tuesday of last week at Columbia Falls by going 6-feet, 8 inches, and then followed up with a first-place finish in his final Libby Invitational this past weekend.
By the time Wright took his first attempt on Saturday, the rest of the field had already completed their jumps. He cleared 6-2 to clinch the victory and then had the bar raised to challenge himself. But as other high jumpers found out, the surface was a little slippery.
At Columbia Falls, it all came together.
"It was a good atmosphere, it was the last event," Wright said. "I attempted 6-10 and cleared it with my body but hit the bar with my feet."
Mastering the high jump could be called an art form. A lot of components must come together with perfect timing to experience success.
"It's technique and how well you can control your speed at the bar," Wright said.
Wright definitely has those components down in the triple jump as well. Because of a bruised heel he suffered a couple of weeks back, he's been taking it easy in that event. In fact, he had only one jump on Saturday – good enough for the victory. He scratched his other attempts.
"I finally beat my sophomore record and upped my personal best," said Wright, who took first with a jump of 43 feet, 10 3/4 inches. "It took me two years."
A University of Montana recruit, Wright plans to compete in the decathlon – a 10-event ironman competition that includes the 100, 400, 1500, 110 high hurdles, discus, shot put, javelin, long jump, pole vault and of course, high jump.
Wright was not the only one coming up big in front of the home fans. T.J. Benson won by a half-foot in the pole vault by clearing 12-0 and Joel Fuller took care of business in the javelin with a throw of 171-8, nearly 20 feet better than his closest competitor.
In the team race, Columbia Falls won the boys portion of the meet with 154 points. Whitefish took second with Libby third.
Other top three finishes for Libby were turned in by Wright (2nd, 200, 24.39; 2nd, discus, 147-3; 3rd, long jump, 20-4 1/4), Fuller (2nd, shot put, 42-9 1/2) and Kody Berget (3rd, 300 hurdles, 43.41). The boys' 400-meter relay team placed second with Fuller, Benson, Dietrich Coleman and Dean Willey.
The Lady Loggers had a pair of victories at the meet – one in the individual events and another in the relays. Stephany Kluver outdueled Columbia Falls' Alyssa Ladenburg to win the javelin by nearly 6 feet. Kluver recorded a throw of 116-1.
In the 400-meter relay, Libby turned in a time of 54.36 seconds to nip Whitefish and Columbia Falls in a close race. Rachael Sweedman, Devon Hoyer, Kluver and Kaila Forster were all part of the winning relay.
Other top three finishes included Forster (3rd, 100 hurdles, 17.87; 2nd, long jump, 14-7 1/4), Kluver (2nd, discus, 100-6 1/2) and Hoyer (3rd, high jump, 4-10).
The meet also featured a junior varsity competition. First-place finishes were turned in by Kyle Berke (400, 58.72 and javelin, 136-6) and Sean Lundin (triple jump, 37-4) for the boys, and Corey Willis (long jump, 12-8 and triple jump, 30-0) and (Katie Emery (shot put, 24-8) for the girls.
The Loggers are scheduled to head to Whitefish on Saturday.
---