Stinger catches senator's attention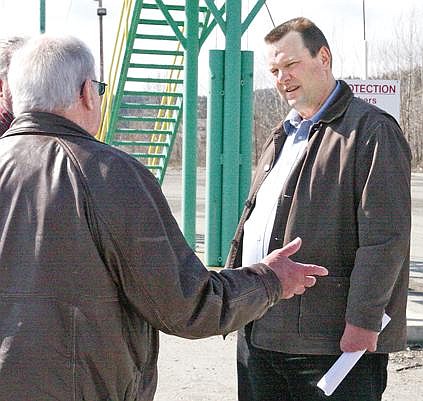 Brad Fuqua/The Western News Sen. Jon Tester, right, listens to Paul Rumelhart, Kootenai River Development Council executive director, during a visit Saturday morning to Kootenai Business Park in Libby.
by
Brad Fuqua & Western News
|
April 21, 2009 12:00 AM
With the second-highest unemployment rate in the state, Lincoln County workers have certainly experienced the sting of a challenging economic climate. Even those who remain employed, many fear the possibility of layoffs while others try to make ends meet after enduring pay cuts or reduced hours.
Sen. Jon Tester, who believes stimulus funds will play a role in kick-starting Montana, toured Kootenai Business Park in Libby on Saturday morning to hear about the possibilities that Stinger Welding brings to town. And when asked if he had a message to those suffering through tough times, the senator remained upbeat that things are headed in a positive direction.
"The key is we've got to get the economy turned around, get more housing starts going and things will bust pretty quick. You'll see the unemployment rate go down pretty fast," Tester said. "We haven't been in this situation since the '30s and we're just working on ways that we can invest.
"My personal belief is that you invest in infrastructure locally and the economy will turn around," he added. "And when it does, you'll be set up for it because you'll have the infrastructure to support it."
One point of hope for the future of the Libby-Troy area lies with Arizona-based Stinger Welding, which plans to establish a steel fabricating facility at Kootenai Business Park. Stinger makes bridge expansion joints and vehicle, rail and pedestrian bridges.
"There are lots of good reasons for being here with the location and the rail access," said Doug Watson, Stinger Welding's general manager. "We've got people up here … they're not afraid to get their hands dirty and work hard."
Watson and Paul Rumelhart, Kootenai River Development Council executive director, went over details of the Stinger operation and later took Tester to the future site of a 150,000-square-foot building.
Watson said Stinger plans to start with 25 employees that would do deck joint work. Later, when at full capacity, the company expects to employ about 200 production, supervisory and management personnel.
"I think there's just a whole lot of opportunity to create some jobs here and a business that can fit a need throughout the Northwest U.S. and Montana, so I think it could be a win-win deal," Tester said about Stinger. "And with this location on the rail line and the kind of acreage they have here, I think this could bode well for northwestern Montana."
Rumelhart mentioned that close to 180 job applications have been received so far.
Various hurdles need to be cleared – a process necessary with any project – but Tester did say that there is a "need for speed" when it comes to testing and cleanup issues involving the Environmental Protection Agency and its contractors. One official in attendance at the meeting said the local EPA office indicated that the business park property is a high priority.
Tester was also positive about other opportunities coming to the region.
"We needed investment in infrastructure and the Forest Service is going to put some serious dollars in the Kootenai here very, very soon on roads and forest management," Tester said. "You get that part which is going to employ some more people and the issue of Stinger here with the bridges, and you've got people working in the forest again. All of those things bode well."
Tester also met with St. John's Lutheran Hospital and Center for Asbestos Related Disease officials about health-care needs, including the new hospital. Bill Patten, St. John's chief executive officer, and Dr. Brad Black of CARD were among those taking part in those discussions.
In the afternoon at City Hall, the senator hosted a listening session with timber industry leaders to come up with on-the-ground solutions to other issues, including discussion of the impact of a Ninth U.S. Circuit Court of Appeals ruling that re-energizes nine projects on Kootenai National Forest.
---