Libby 8-year-old accomplishes rare feat on golf course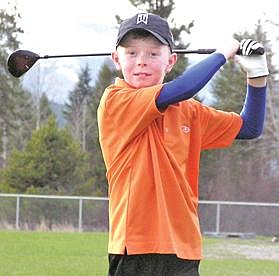 Courtesy Ryggs Johnston, 8, nailed a hole-in-one last week.
by
Brad Fuqua & Western News
|
April 16, 2009 12:00 AM
One of the most challenging of sports, golf requires skill, patience and focus. And a little luck never hurts.
Last week in Polson, 8-year-old Ryggs Johnston of Libby accomplished a feat that many golfers are never able to achieve over the course of a lifetime – make a hole-in-one.
"He loves golf. When we go to Arizona, we golf 18 holes a day and he wants to golf more," said mom Cindy Ostrem-Johnston. "When he was younger, we had him out on the course when he was 3, 4, 5 years old. Some people were kind of skeptical but once they saw him swing …."
The youngster's ace occurred this past Friday on the par-3, 119-yard 17th hole at Polson Bay Golf Club. And it appears he was fortunate to get the chance to play out his holes that day. Like many others on the golf course, Ryggs gets frustrated when he's not playing well.
"He's lucky … I was ready to pull him off the course on Friday," Ostrem-Johnston said. "I had enough … he was throwing his clubs around and slamming his bag down. I told him, 'you straighten up or we'll go off the course.' Right after that, he got the hole-in-one."
Ryggs got his first set of clubs when he was about 18 months old. But it wasn't a case of parents trying to force something upon a child. Ostrem-Johnston said he truly loves the sport and can wear out his parents – dad is Roger Johnston – by wanting to play on. He now plays in junior golf and is putting together a collection of trophies from his success on the links.
Ryggs is the first in his household to record a hole-in-one. Neither one of his parents has ever aced a shot. But his grandfather, Norm Ostrem, had a hole-in-one three years ago at the Village Greens in Kalispell.
And yes, Ryggs was there to see it.
---