Mistrial: Jury cannot agree on verdict; case may be retried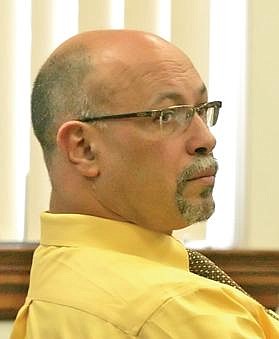 File/The Western News The state indicated that it plans to retry the case against William Dancer.
by
Canda Harbaugh & Western News
|
April 2, 2009 12:00 AM
District court judge Michael Prezeau declared a mistrial Monday evening in the William Dancer embezzlement case after jurors were unable to reach a verdict in 13 hours of deliberation spread over two days. 
Upon Prezeau's questioning, jurors said it was a "fairly thin split," according to clerk of court Patti Noble. The state indicated that it plans on retrying the case.
Dancer was on trial for allegedly opening an unauthorized bank account in his employer's name and shuffling between his bank accounts money from six deposited customer checks collectively worth over $400,000.
His former employer Independence Home Center Inc., a Sagle, Idaho-based manufactured home supplier, caught on to the activity in October 2006 when a homebuyer complained that she had given Dancer, Libby's branch manager at the time, a check for nearly $98,000 and months later, still didn't have her home.
Dancer's defense claimed that he deposited homebuyers' checks into his accounts to pay business expenses that his company wouldn't reimburse him for and that IHC was shorting him on his sales commissions. His defense maintained that it was a business dispute, not criminal action.
When IHC's general manager Michael Brown called Dancer about the homebuyer that IHC had no record of, Dancer initially said that she had Alzheimer's disease and she just purchased the house the day before, according to Brown's testimony. Still uneasy, Brown drove to Libby to confront Dancer in person.
Dancer told Brown that he was "overwhelmed" and that the money and thousands more was gone, according to Brown's testimony. A fistfight ensued and a few days afterward, Dancer emptied his IHC bank account and moved to Spokane, Wash., according to testimony. He was extradited to Montana seven months later.    
The five-day, document-intensive trial took a surprising turn when Dancer's defense rested its case Thursday after only calling three witnesses, cutting testimony two days shorter than the court scheduled.  
The defense got in a few jabs Thursday with its cross-examination of accountant Robert Denning, who had testified earlier that Dancer's five bank accounts appeared to show that he deposited much more customer money than he used for business-related expenses.
Defense attorney Scott Hilderman highlighted that Denning's method of going through the accounts did not have as broad of scope as an audit, but was only a set of "agreed upon procedures" instigated by IHC when the company was building a civil case against Dancer in 2006. 
Denning testified for the state that Dancer had $236,748 in his accounts of "questioned expenses." Upon cross-examination Denning said that conclusions of where money was spent were based on assumptions made from bank statements, copies of checks and information supplied by IHC owners.
With a deeper investigation using a higher accounting standard, Hilderman maintained that many of the "questioned expenses" would be deemed business-related.
Jim Brashier testified that he had worked for Dancer at the Libby IHC branch and so had four other people whose paychecks Denning deemed "questioned expenses" because Denning thought they were paychecks for Dancer's other business, Smart Bucks.
Employee and subcontractor paychecks, electricity, gasoline, furniture, hardware store purchases, vehicle insurance and advertising were all "questioned expenses," Hilderman said, that could have been categorized as business-related.
An officer testified to the vehicles that Dancer and his wife owned, which showed no new "$55,000 truck" that was alluded to by two of the state's witnesses. Of Dancer's four vehicles and numerous utility trailers, he owned a new Suzuki motorcycle and a pickup that was 12 years old at the time.
The defense's accountant, Tana Doyle, testified over a teleprompter in Missoula that IHC underpaid Dancer's commission, but she admitted that she didn't have enough information to make claims about who owed money and how much.
During closing arguments Friday morning, the prosecution pointed out that Dancer's actions after being caught by IHC revealed his intent to steal. The fact that Brown, who now holds 30 percent of the company's shares, is not even authorized to open an IHC account, endorse checks or deposit customer checks showed that Dancer took "unauthorized control" of IHC property, the prosecution said.
The defense accused IHC owners of lying during their testimony and pointed out that without proving intent to steal – by showing how Dancer gained from the money – the state could not prove that Dancer was guilty of anything but being a bad businessman.
---