Libby sweeps through divisionals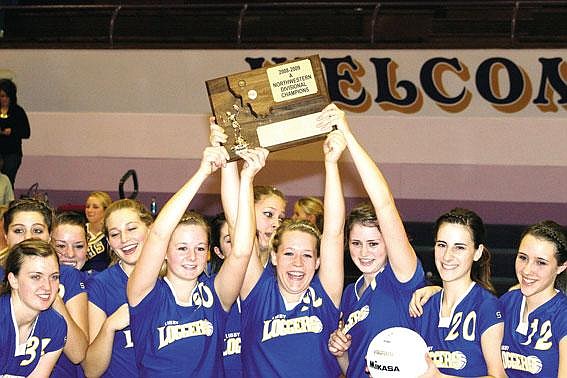 Jenna Cederberg/Lake County Leader Libby players hold up the first-place prize for taking divisionals on Saturday in Polson.
After knocking off the No. 2 seed and playing in front of its home crowd, the Polson High School volleyball team was on a mission to upend defending champion Libby for a shot at the Northwestern A divisional title.
Although the Pirates came out with confidence and pushed visiting Libby to the limit, the top-seeded Lady Loggers persevered and won a marathon match, 21-25, 25-23, 25-15, 22-25, 15-11 for the divisional championship.
It was the eighth divisional title in 16 years with Cindy Ostrem-Johnston at the helm.
"Polson didn't make it easy on us that last match," Libby's veteran coach said. "It was pretty tight … it was stressful. Polson was playing well, they were playing fearless and we were playing a little scared part of the time."
The two schools battled to a 2-2 tie through the first four games. In the deciding fifth game – which is played  to 15 instead of 25 – the Loggers came up with clutch plays late to win the top trophy.
With game 5 tied 9-9, Libby won six of the final eight points. The Loggers turned an 11-10 lead into a 14-10 advantage to pin Polson to the wall. After a sideout on point 12, Libby scored two straight with Devon Hoyer serving. Then on the winner, Alysha Martin served and Nichole Newman got the kill.
"Nichole had a great match," Ostrem-Johnston said. "She had 10 kills and a .474 attack percentage. She had some major kills in the fifth game … I know she had two big ones right at the end."
Libby had cruised to 3-0 victories in its first two matches of the tournament, including a sweep over Polson. But the Pirates gained momentum as the tournament wore on.
"Polson was coming off a win over Bigfork so they were on a high knowing they were going to the state tournament," Ostrem-Johnston said. "That's a pesky bunch, the whole team."
Libby (12-3 overall) had gone to a full five games on just one other occasion this season and it accounted for the team's lone loss in the conference. Bigfork won in five games – 15-13 in the finale – during the regular season.
If Polson would've pulled out the victory in the championship, the two schools would've turned around and played another championship match. The Loggers entered the finale unbeaten and the tourney was played under a double-elimination format.
On the final stat sheet, the Lady Loggers had 60 kills at the net – half of those by Jackie Mee. The junior must've had a sore arm afterward with 58 swings at the ball in that match alone. She finished with a respectable .379 attack percentage. Newman had 10 kills and a .474 attack and Alex Kulbeck added nine kills. Jordan Refsland and Evianna Cernick were efficient setting up those hits with 22 and 20 assists, respectively.
At the service line, the Loggers recorded 13 aces – three each by Hoyer and Martin. In terms of serve perentage, Mee came in at 100, Jordan Refsland at 96 and Martin at 95. Refsland was very effective with three long scoring runs – including eight straight in game 4.
Mee and Kulbeck each had three blocks and Martin added two. Hoyer led in digs with 23, Mee had 21, Martin added 16 and Genesea Meha finished with 14. Mee had a 2.55 serve-receive ratio. Meha came in at 2.31 on that same stat.
Libby 3, Whitefish 0
Libby sat out the first day with a bye and took the floor on Friday against Whitefish. The Lady Loggers went on a roll at the service line and put together an exceptional performance blocking to post a 25-17, 25-22, 25-17 win.
The team had a 90-percent success rate serving with Cernick, Refsland and Meha each recording four aces. Meha served 94 percent and Cernick had an eight-point run in the second game. Martin also served well at 100 percent. In all, the team had 16 aces.
At the net, Mee had 11 kills to go along with a .391 attack percentage. Hoyer finished with seven kills and Kulbeck added five with a .500 attack percentage. Meha put down four kills and had a very nice .571 attack percentage.
Cernick had 11 set assists and Refsland finished with 10. And in the block department, the Loggers had eight as a team with Mee coming up with six on her own. Hoyer, Katie Emery and Kulbeck each had two blocks.
The Loggers struggled a little passing with a 1.76 serve-receive ratio. Hoyer had 10 digs, Mee finished with nine and Meha added eight.
Libby 3, Polson 0
Unlike the championship match, Libby had no problems with the Pirates in a winner's bracket game on Friday. The Lady Loggers took the win, 25-19, 25-19, 25-19.
"We only had seven aces but we were still serving aggressive seams and causing Polson to run their offense as well," Ostrem-Johnston said about the match.
Meha, Refsland and Mee each had two aces. Mee served 100 percent but as a team, the Loggers were below par at 83 percent. Refsland had streaks of five straight serving points in both games 2 and 3. Martin had a five-point run in the third game.
Mee had a match-high 17 kills and a .500 attack percentage. In fact, she had just one error and even on that ball, it was a close shot down the line that could've been called either way. Newman had five kills and a .250 attack percentage and Kulbeck came in with five kills and a .214.
On assists, Refsland led with 15 and Cernick added 11. The team had four blocks and individually, Kulbeck had three and Newman had two.
Mee and Hoyer both shined with their passing with 2.53 serve-receive ratios. Mee had 16 digs and Hoyer 10. Martin and Meha added nine and eight digs, respectively, and both also had 2.07 ratios. As a team, Libby had a very good 2.23 serve-receive ratio – a key statistic that contributed to the Loggers running an efficient offense.
"The scores were the same (25-19 in each of the three) but we were really in command," Ostrem-Johnston said.
Following Saturday's victory over the Pirates, Libby climbed onto the bus for the trip home. Unfortunately, the team got a jolt about 10 miles outside of town when the bus hit a deer.
The team's next bus ride will be on Wednesday when the Loggers leave for Bozeman. Beginning on Thursday, eight teams in Class A will compete for the state title – a prize Libby has not claimed since 1997.
Northwestern A Divisionals
Thursday's Results
• Whitefish def. Columbia Falls, 25-21, 25-22, 7-25, 18-25, 15-12
• Polson def. Ronan, 25-20, 25-20, 25-16
Friday's Results
• Libby def. Whitefish, 25-17, 25-22, 25-17
• Polson def. Bigfork, 25-18, 25-19, 19-25, 19-25, 15-9
• Ronan def. Whitefish, 15-25, 27-25, 25-16, 25-19
• Bigfork def. Columbia Falls, 25-12, 25-15, 25-14
• Libby def. Polson, 25-19, 25-19, 25-19
Saturday's Results
• Bigfork def. Ronan, 25-15, 26-24, 25-15
• Polson def. Bigfork, 25-20, 25-18, 24-26, 25-21
• Libby def. Polson, 21-25, 25-23, 25-15, 22-25, 15-11
Final Standings: 1, Libby; 2, Polson; 3, Bigfork; 4, Ronan
Libby and Polson advance to Class A State Tournament
---