Rachel O. Shriner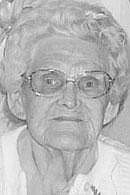 |
November 13, 2008 11:00 PM
Rachel O. Shriner, 95, of Libby died of natural causes Sunday Nov. 9, 2008 at Libby Care Center.
She was born July 13, 1913 in Ft. Benton, Mont., to Walter and Olive Blanchard Payne. She grew up and attended school on the "east side." She married William Shriner on July 25, 1929 in Jordan, Mont.
Mrs. Shriner lived and worked on ranches for more than 20 years. She moved to Libby in 1952 and worked for a period of time at the Lincoln County Courthouse. She enjoyed quilting, sewing and making clothes.  Her husband, a daughter and four grandchildren preceded her in death. 
Survivors include a son, Ben Shriner and wife Donna of Libby; two daughters, Elvira Osborn of Libby; and Bernice Palmer and husband Del of Charlo, Mont.; 10 grandchildren, 22 great-grandchildren and numerous great-great grandchildren. 
Services will be Saturday Nov. 15, 2008 at 2 p.m. at the Libby Christian Church. Visitation will be from 4-8 p.m. on Friday, Nov. 14.
Schnackenberg and Nelson Funeral Home in Libby handled arrangements.
---