Voter turnout high in county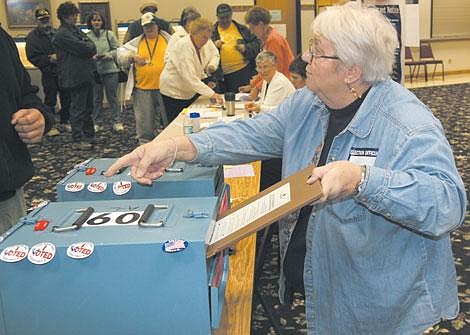 Voter turnout high in county
by
Brandon Roberts Western News
|
November 6, 2008 11:00 PM
Once a Democratic stronghold, Lincoln County's political pendulum now rests with Republicans, which captured all but two races.
Re-elected Gov. Brian Schweitzer and Sen. Max Baucus were the only prevailing Democrats in the county.
Initial numbers reveal nearly 10,000 Lincoln County residents, 72 percent of registered voters, voted on Tuesday. In comparison, the national figure was 64.1 percent, or 133.6 million voters – the highest since William Taft was elected by 65.8 percent of registered voters in 1908 and topping the 63.8 percent turnout of the 1960 election of John Kennedy.
Montana has a strong history of civic duty, topping the nation by 20 percent in presidential elections over the past 20 years. From 1988-2008 Montanans have averaged 71 percent voter participation compared to 52 percent nationally.
Back in northwest Montana, other records were set during this election cycle. The number of absentee ballots issued was 3,265.
"This is a huge number," said Leigh Riggleman, assistant election administrator. Those numbers equate to one-in-three Lincoln County voters utilizing the absentee ballot.
Riggleman said there was a constant flow of late registration voters on Election Day, which added to the absentee totals. About town, Libby polling places were a bustle.
"Voting seems to be brisk at the precincts," Riggleman said.
She and many other dedicated employees and volunteers worked diligently into the night while candidates and families awaited precinct results.
By 10 p.m. the Lincoln County Courthouse was heating up. There was a looming air of anxiety as ballots were tallied. Candidates would crowd the counter to check the latest printout, then pulled out cell phones to give updates.
In local races House District 1 went to newcomer Jerry Bennett (R) and House District 2 was held by incumbent Chas Vincent (R). Libby mayor Tony Berget (R) will step into his new role as county commissioner and Susan Farmer (R) ran uncontested to retain her role as clerk of district court.
Public service commissioner for District 4, which includes Lincoln County, went to Gail Gutsche (D) over Doug Mood (R). Gutsche overcame a 1,800-vote deficit in the county to take the district.
Lincoln County went against the grain in state elections, offering nearly 60 percent of each race to the Republicans. However, secretary of state incumbent Brad Johnson (R) was ousted by Democrat Linda McCulloch. Steve Bullock (D) won a close attorney general contest over Tim Fox (R) and Monica Lindeen (D) prevailed over Republican Duane Grimes for state auditor.
Democrat Denise Juneau becomes the first female Native American in Montana – and potentially nationwide – to hold a state office. Juneau defeated Elaine Sollie Herman (R) for state superintendent of public instruction.
The ballot also contained two legislative proposals and a citizen's initiative. C-44 had little chance of passage with the recent stock market slump. The measure would have allowed 25 percent of state public funds to be invested in private corporate capital stock.
Montanans said yes to education and children's health care. The approval of LR-118 will allow the legislature to levy six mills for the Montana university system.
Voters also approved I-155, which expanded the Children's Health Insurance Program and Medicaid eligibility for uninsured children.
Lincoln County General Election
(Note: Overall winners noted with an 'x')
President/Vice President
Candidate(s) Votes Pct.
Barr/Root (L) 44 0.48
McCain/Palin (R) 5,699 61.76
Nader/Gonzalez (I) 64 0.69
x-Obama/Biden (D) 3,018 32.70
Paul/Peroutka (C) 386 4.18
Write-In 17 0.18
U.S. Senator
Candidate(s) Votes Pct.
x-Max Baucus (D) 5,615 61.83
Bob Kelleher (R) 3,447 37.95
Write-In 20 0.22
U.S. Representative
Candidate(s) Votes Pct.
John Driscoll (D) 2,318 25.59
Mike Fellows (L) 407 4.49
x-Denny Rehberg (R) 6,326 69.84
Write-In 7 0.08
Governor/Lt. Governor
Candidate(s) Votes Pct.
Brown/Daines (R) 3,706 40.70
Jones/Baker (L) 287 3.15
x-Schweitzer/Bohlinger (D) 5,108 56.10
Write-In 4 0.04
Secretary of State
Candidate(s) Votes Pct.
Brad Johnson (R) 4,978 56.25
x-Linda McCullough (D) 3,492 39.46
Sieglinde Sharbono (C) 367 4.15
Write-In 12 0.14
Attorney General
Candidate(s) Votes Pct.
x-Steve Bullock (D) 3,656 42.04
Tim Fox (R) 5,016 57.68
Write-In 24 0.28
State Auditor
Candidate(s) Votes Pct.
Duane Grimes (R) 4,891 56.79
x-Monica J. Lindeen (D) 3,705 43.02
Write-In 17 0.20
State Supt. of Public Instruction
Candidate(s) Votes Pct.
Donald J. Eisenmenger (D) 651 7.53
Elaine Sollie Herman (R) 4,631 53.59
x-Denise Juneau (D) 3,342 38.68
Write-In 17 0.20
Public Service Commissioner, District 4
Candidate(s) Votes Pct.
x-Gail Gutsche (D) 3,287 39.14
Doug Mood (R) 5,080 60.49
Write-In 31 0.37
Supreme Court Justice
Candidate(s) Votes Pct.
x-Mike McGrath 5,307 71.04
Ron Waterman 2,113 28.29
Write-In 50 0.67
Supreme Court Justice 3
(Retain Patricia Cotter?)
Candidate(s) Votes Pct.
x-Yes 5,902 75.79
No 1,885 24.21
State Representative, District 1
Candidate(s) Votes Pct.
x-Gerald A. Bennett (R) 2,413 59.62
Eileen J. Carney (D) 1,491 36.84
Freeman Johnson © 136 3.36
Write-In 7 0.17
State Representative, District 2
Candidate(s) Votes Pct.
Timothy P. Linehan (D) 1,653 33.62
x-Chas V. Vincent (R) 3,240 65.91
Write-In 23 0.47
Clerk of the District Court
Candidate(s) Votes Pct.
x-Susan Farmer 7,577 98.83
Write-In 90 1.17
County Commissioner, District 1
Candidate(s) Votes Pct.
x-Anthony J. Berget (R) 5,433 65.85
Write-In (all) 2,818 34.15
Write-In (Jerry Okonski) 2,422 29.35
Constitutional Amendement 44
(State fund investments)
For 1,771 20.37
x-Against 6,925 79.63
Legislative Referendum 118
(Montana university system)
x-For 3,916 44.46
Against 4,891 55.54
Initiative 155
(Children's health insurance)
x-For 5,667 63.73
Against 3,225 36.27
---