Margie Maudine Troop Dierman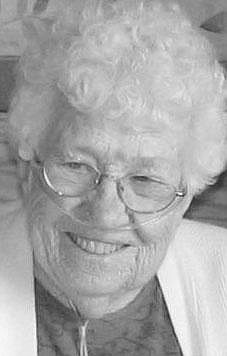 Margie Maudine Troop Dierman
|
November 6, 2008 11:00 PM
Longtime resident and former Lincoln County High School teacher, Margie Dierman, died Nov. 2, 2008 at Kalispell Regional Hospital after a brief illness.
She had resided at Mountain View Manor at the time of her death.
She was born in Weir, Kan., on Jan. 13, 1922. Her parents were Charles Henry and Ola Brown Troop. At age 1, she moved with her family to Pittsburg, Kan., and lived there until graduating from Kansas State Teachers College, now known as Pittsburg State University.She started her teaching career in 1941 at Lovewell, Kan., and after three years came west and ended up in Eureka, where she lived out her life. She taught school at Eureka for 25 years. She taught business, typing, home economics, English and journalism. She put out the school newspaper and the yearbook while learning to take and develop pictures for publication.She married Frank J. Dierman on June 21, 1945 and bore five children. She was very involved in her children and grandchildren's lives and was always on hand to lend a helping hand. She was active in the American Legion Auxiliary and the Rebekkahs.
For many years, Mrs. Dierman was responsible for putting flags on the veterans' graves. She was very active in sending students to Boys and Girls State for many years. She was an excellent seamstress and took in mending after retiring from teaching. She loved to read and do crossword puzzles. Up until the time of her death she played pinochle every Friday with her good pals.
Mrs. Dierman was known as a caregiver. Her many loaves of homemade bread will be remembered. Even after entering the nursing home she still gave to her family and friends. She would read the local paper to the residents every Friday.
She was preceded in death by her husband, Frank, in 2004; her parents; a sister Pauline; and a brother Oren.
She is survived by her children, Dennis Dierman and wife Marilyn; Becky Evins and husband Gary; Kate Dierman; and Frank Dierman Jr. and wife Barbara ®C all of Eureka; and Sam Dierman and wife Savannah of Whitefish; a sister Imogene Burt of Chesterfield, Mo.; 12 grandchildren, great-grandchildren, nieces and a nephew. Services were scheduled for 11 a.m. on Thursday, Nov. 6 at First Baptist Church in Eureka. Memorials can be made to Girls and Boys State fund at Glacier Bank in her name.
Schnackenberg & Nelson Funeral Home in Eureka handled arrangements.
---