Lady Trojans qualify for district volleyball tournament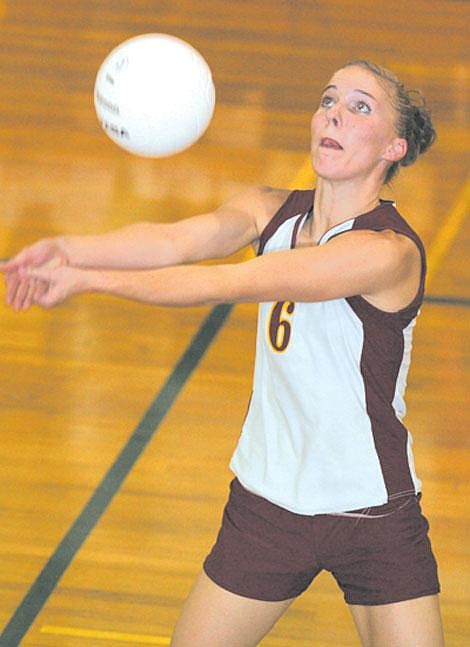 Lady Trojans qualify for district volleyball tournament
|
November 6, 2008 11:00 PM
The Western News
Putting on a display of domination during its final home appearance of the season on Monday night, the Troy High School volleyball team ended the season of Plains-Hot Springs with a 25-14, 25-8, 25-4 sweep.
The two schools played to determine which team would clinch the final spot for this weekend's district tournament. With the victory, the Lady Trojans will play top-seeded Eureka.
"We've had our ups and downs with Eureka; they're a very good team," Troy coach Sandra Jansma said. "They have a lot of athletes to choose from with their enrollment. We love playing them because they are a very good team."
The district tournament, which is being played this year at Plains, serves as a way to seed teams for divisionals the following weekend in Missoula.
"We need to communicate; we're a young team and communication for us plays a very big role," Jansma said.
The Lady Trojans (4-8, 8-9) were doing plenty of communicating in Monday's victory over Plains. Troy's serving was on the mark in the sweep with two players in particular combining for 19 aces – 10 by Ashley Paasch and nine by Jessica Lyons. In all, the team had 23 aces against Plains (0-9, 1-14).
The win was so one-sided that one Troy player never made it out of the back row, Jansma said.
Seniors Molly Harpole and Alicia Anderson both played well in the victory. Anderson had a team-high eight kills and Harpole pulled off a memorable one-handed block. Other stat leaders included Paasch with three digs and Alyssa Olds with 10 set assists.
The match on Saturday in Plains against Eureka is scheduled for a 2:30 p.m. start.
---