Libby athletes honored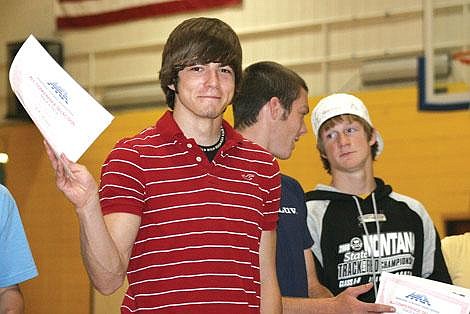 Several Libby High School students were recently honored for their achievements during a program at the Ralph Tate Gymnasium.
In tennis, the LHS head coach Kyle Hannah presented Jackie Mee with most valuable player, Margeaux Zwang as most inspirational and Ashely Shaw most improved.
For boys' tennis, the most valuable player was Steven Hauck. Chris Schnackenburg received most inspirational, while Levi Edwards-Myslicki was awarded most improved.
Jackie Mee was also voted all-conference in Class A tennis.
Hannah noted Mee was in the top six at state, while Hauck and the girls doubles team of Riley Dinning and Nichole Newman were only one match away from making state.
For LHS girls track, Shantel McLinden won the high point award; Quinn Wilson won most inspirational, while Stephanie Kluver won most improved.
The boys winners were Brandon Mills for most inspirational and Kody Berget for most improved. Berget went to state as a freshman in the 300 hurdles.
Seth Wright won the High Point award, also fulfilling the all-state member requirement into LHS's Hall of Fame, though he will have to wait to be inducted when he is a senior.
Zack Rowan also was inducted into the Hall of Fame with his all-state honors and his first-place finish of 49.55 in the 400 at the Class A state tournament — the fastest time LHS track coach Ed Tabis has seen in his 30 years of coaching.
Both Rowan and Wright received an L-Club White Star letter award sponsored by the Elks Club, which is given to athletes who have lettered in nine varsity letters.
LHS Band director Brenda Nagode announced that 25 members went to state, with 18 receiving superior ratings.
In girls softball, coach Dean Thompson presented Jordan Refsland with the most improved varsity player, while Laice Dedrick won most inspirational, and Brooke Hageness won most valuable.
Dedrick went into the LHS Hall of Fame with her fourth-time appointment to All-State and first-time All-State.
Shelby Barton also was inducted into the Hall of Fame with an all-state award, along with Brooke Hageness, a three-time all-state winner.
In junior varsity, Thompson gave Taylor Armstrong the most valuable distinction, while Emily Huntz received most inspirational.
The most improved junior varsity player was Stacey Odeewaldt.
Blanche Ward presented the Ben Graham Memorial award to Korey Kulbeck and Jim Mee, while Sperry Robinson won the Steve Stout Memorial Basketball scholarship.
The Jennica Snyder Memorial award went to Zack Rowan, while Bryan Cooper received the Dan Koehler Memorial award.
The Libby Logger Booster Club scholarship went to Jim Mee and Quinn Wilson, while the Kerry Fruit Inspirational athlete went to Sperry Robinson.
Steven Hauck won the Donna Sather Memorial award, a $100 drawing given to any senior who puts their name in the box.
Members of the student council were recognized, including president Shelby Barton, vice president Laice Dedrick, secretary Margeaux Zwang and treasurer Katie Horelick.
Student School Board Representative Levi Edwards-Myslicki won the office of president for next year.
---