Cielak, Randall tourney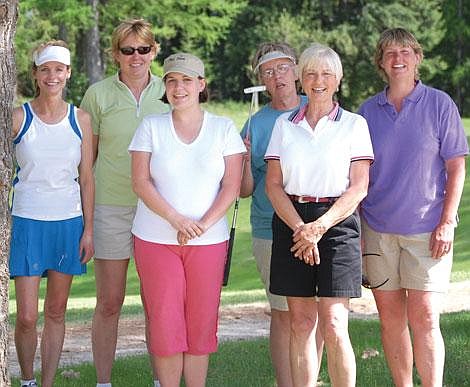 winners
By Hope Nealson
Western News
Then 20th annual Ben Graham Memorial Golf Tournament at Cabinet View Country Club included more than 70 golfers playing for charity.
Joe Cielak had three under par (69) the first day and went on to beat Jimmy Mee by two strokes the next day with a total of 148.
Vicki Randall defeated second-place winner Bobbie Lacklen by five strokes to clinch the women's championship with 179.
"The weather was perfect," said Cabinet View golf pro Jeff Dooley, who noted that people came from as far away as Nevada and California. "It was 90 degrees on Saturday and 80 on Sunday. People came from all over Montana - quite a few from out of town."
The memorial tournament is held each year in honor of Ben Graham, a Libby native who played with the University of California North Ridge and was an All-American golfer before dying in a car accident in his 30s.
The tournament benefits the Ben Graham Memorial scholarship awarded each year to a Libby High School student. This year's awards went to Loggers Korey Kulbeck and Jim Mee.
The tournament also helps acquire equipment like rain gear, umbrellas and bags, and pay for gas and food for the Logger golf team.
After golfing, participants had a barbecue chicken and pork dinner catered by Manon Hughes.
"It was excellent," said Dooley. "Manon did a really good job."
Proceeds from an auction went to the Ben Graham fund. Items sold included two Todd Hileman original paintings, custom-made golf clubs by Barry Fenn and six golf course packages that included hotels and gas.
The next golf tournament is the Cabinet View Country Club Invitational on Saturday, June 7, and Sunday, June 8. This year's proceeds from the club's annual fundraiser will go toward installing an automatic ball dispenser.
There will be awards for closest to the pin, longest putt and longest drive, along with gross and net scores, paid in Libby Bucks and redeemable at all Libby Chamber of Commerce member businesses.
The cost is $25 for a member, $55 for a non-member for the two-person scramble — the first time on the just added 18-holes.
"The golf course is doing very well," said Dooley. "It's in great condition, and the driving range is open daily."
Dooley added the pro shop is stocked with men's and ladies' apparel, golf equipment and golf balls; food and beverages are also available, including hamburgers and beer.
Sign up for the CVCC tournament in the golf shop or call 293-7332.
---