9-pound trout catches $2,514 prize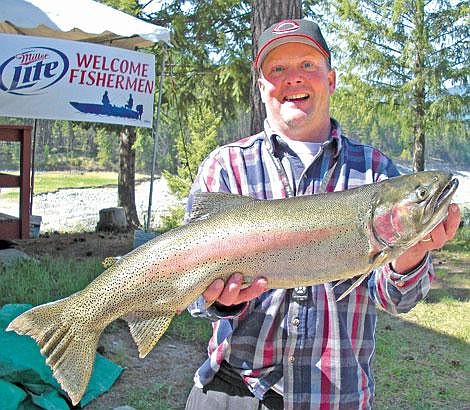 9-pound trout catches $2,514 prize
A Post Falls, Idaho, man took first place in the rainbow trout division during the 6th Annual Trout and Salmon Derby hosted by Koocanusa Resort and Marina.
Don Wimpenny's 9-pounds, 4-ounce trout netted him a $2,514 prize.
In the Salmon class, Idaho's Richard Slinger's 6.7-pound catch resulted in a $898 prize.
This year's event attracted a record number 449 anglers.
"We gain 50 to 75 a year," said Randie Burch, who co-owns the resort and marina with her husband, Randy. "People just like doing tournaments. We are already getting ready for next year.
Other rainbow trout results were second, Jeff Young of Washington, 8 pounds, 4 ounces; third, Dale Greene of Idaho, 7 pounds, 12 ounces; fourth, Dave Gardner of Montana, 7 pounds, 2 ounces; fifth, Randy Holter of Washington, 7 pounds, 4 ounces; and sixth- Damian Wolf, 14, from Montana, 6 pounds, 14 ounces.
Other winners in the salmon class were Gene Gregg, second with 6.4-pounds, and Corey George , with 5.8-pounds. Salmon Class is the weight of up to 20 fish for a one-time weigh-in.
The tournament had a great turnout despite rising fuel costs, the Burches said. The 80-degree weather was technically too hot for the derby — anglers prefer overcast days with a little chop from the wind on the water when they are going for the big ones.
Contestants came from South Dakota, Montana, Idaho, Colorado, Washington, Canada and California.
Two 3-year-olds tied for the youngest contestants, with 16 kids under 15 participating.
"It is the friendship and all around great sportsmanship of all the fisherman and women," said Randie Burch.
"We had a guy with a boat broke down opening morning and you could hear all the guys on the lake trying to find him a part so he could get out on the water and fish with them. It is really a wonderful bunch of people."
The derby concluded with awards and door prizes donated by area businesses and individuals.
---