LHS graduate inspires students to work hard and further education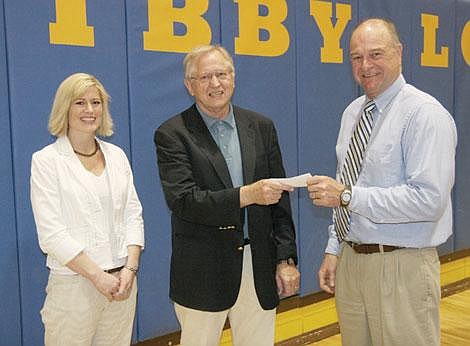 LHS graduate inspires students to work hard and further education
by
Erika Kirsch Western News Editor
|
May 14, 2008 12:00 AM
A Libby High School graduate came back to his old stomping grounds Thursday to give a few LHS seniors a leg up in furthering their education.
Roe Hatlen, an LHS graduate and co-founder of Old Country Buffet, Hometown Buffet and Country Buffet, came back to his alma mater on Thursday to inspire the LHS students and provide monetary incentive.
Hatlen admitted when he was a student at LHS he wasn't the best student.
"I had no study skills and I was not a great student until halfway through my senior year," he told the freshmen, sophmore and junior students. "Hard work overcomes all kinds of obstacles."
Hatlen went on to study at Pacific Lutheran University, admitting no one in his family had ever gone to college. He received his master's degree in business administration from University of Oregon.
In March 1984, Hatlen and his business partner C. Dennis Scott opened the first Old Country Buffet. In 2000, Hatlen retired from the position. The Buffet chain is now in 34 states and employs 27,000 people.
"There's no easy way in high school and there's no easy way in life," Hatlen said. "You have to do your work."
In 1988, Hatlen established a financial benefit for LHS students. Named the Hilda E. Hatlen Scholarship after his mother, the scholarship is for fine arts. In 1996, he established the "Make It Happen" scholarship and began giving LHS students a mirror printed with "Libby Loggers Make It Happen."
"Look in the mirror and you are looking at one of the most talented individuals you've ever seen," Hatlen said after the mirrors were handed out to all the underclassmen. "You're looking at the person who is most responsible for your future."
When it comes time for each senior to graduate, a $3,000 scholarship goes to the senior who's name is pulled from a box. If that senior still has the mirror, then the individual receives the $3,000. If the senior doesn't have the mirror, but may borrow one from a fellow senior, then both seniors split the $3,000.
When it came time for the LHS Awards Assembly on Thursday evening, Laice Dedrick's name was pulled from the box for the "Make It Happen" Scholarship. She produced her mirror and she received the $3,000 scholarship.
In addition, Hatlen also awards two LHS teachers with $1,500 each. Two teachers are chosen by graduating seniors to receive the Roe Hatlen Teacher Awards. The students get the chance to show their appreciation for the teachers. The award may be used for professional development or enhancing the educational experience, Hatlen explained.
On Thursday, the LHS seniors chose Barb Mee and Craig Rowan to receive the $1,500 awards.
Hatlen extended the "Make It Happen" Scholarship for the next three years and presented LHS Principal Rik Rewerts with a check for $12,000 to cover the next three years.
He also awarded junior Ashley Brooks with $100 when she picked up the "lucky penny" Hatlen had purposely left in the hallway outside the gymnasium. He traded the penny with Brooks for a $100 bill and reminded the students to "pay attention to detail."
---