Darko-Hensler, Rebo elected to Libby School Board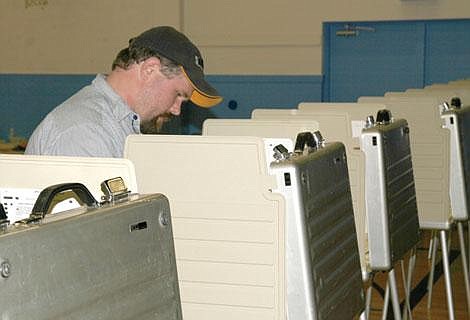 Darko-Hensler, Rebo elected to Libby School Board
by
Erika Kirsch Western News Editor
|
May 9, 2008 12:00 AM
The newly-elected Libby School Board members will be sworn in during the Tuesday, May 13 school board meeting.
Paula Darko-Hensler and Tony Rebo will be the new Libby School Board members. Darko-Hensler, who was appointed to the board in October 2007, was elected by Libby voters with 450 of the 1,764 votes. Receiving the majority of the votes was candidate Tony Rebo, with 472 votes.
Darko-Hensler is a retired consumer and family sciences teacher. She taught at Libby High School for 30 years before retiring. Darko-Hensler also served on the legislature for 10 years.
"I'm happy I'm back," she admitted. "I really enjoy it. I think the board is at a crossroads and I'm committed to the public schools."
Rebo has been the facility manager at St. John's Lutheran Hospital for the past six years. He has also worked for the St. Regis and Stimson mills and currently sits on the SJLH Foundation Board.
"I'm very happy to have gotten elected," Rebo said. "I plan on working hard to do what I can for the kids."
Leaving the Libby School Board is Teri Kelly. Kelly is currently the Libby School Board chairperson. The new chairperson will be chosen by the school board members during the Tuesday meeting.
Also in the race for the position were Maria "Ray" Eanes, who received 441 votes and Anne Weber, who received 401 votes.
"We need to equip our kids the best we possibly can," Darko-Hensler said. "I make informed decisions, I study up on the issues before I vote on them.
"I want to thank the voters for voting for me and I'm looking forward to working with Tony. We're going to keep going with what we started," Darko-Hensler continued. "We've got a good board."
There were also two School District #1 Board of Trustees positions open. Warren Fahner and Steve Garrett held the open positions. Fahner held the seat on the High School Board representing the districts of McCormick, Sylvanite and Yaak. Keith Haggerty ran against Fahner for the seat and received the majority of the votes with 63. Fahner received 50 votes.
Since the Troy School Board of Trustees only received one nominating petition and received no intent for a write in candidate, the board voted to cancel the election in the Troy School District and Garrett will remain on the board.
---