Track team turns out record amount of freshmen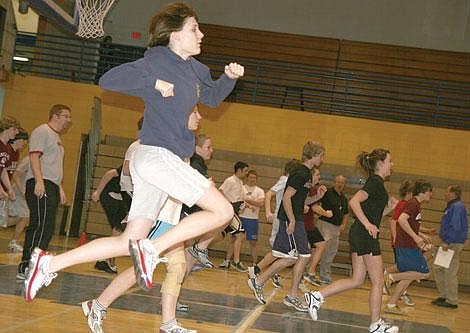 Track team turns out record amount of freshmen
by
Hope Nealson Western News
|
March 28, 2008 12:00 AM
Libby High School head coach for track, Ed Tabis, said a lot of kids came out for track this year, noting a high number of freshmen came out for the team.
"We had 41 girls and 39 boys," he said, noting the boys' number was average and girls was high.
"Even with the boys being average, the thing that is special there is that there are 21 freshmen boys - that's a great effort on their part," he said, adding that last year they only had six freshmen boys.
"So it appears to be a great crew of freshmen boys and girls, participation-wise, with some good athletes in that crew."
The returning seniors include four boys and six girls.
Among the returning seniors, Zack Rowan placed 6th in the State 400 meter dash and relay (didn't place).
Another state qualifier, Seth Wright, placed last year in high jump and won triple jump last year.
Loren Nelson qualified in 400 meter dash and relay.
"The boys were senior-laden last year, so that was a big help," said Tabis, noting they had Rowan to build around in relays and dashes this year, as well as Jordan Gragert in discus and Wright, whose strong suits are the long jump, triple jump, high jump.
Wright has also picked up the javelin and is trying the discus out, according to Tabis, who noted Nelson will give the boys a boost.
Seniors new to track include Riley Hoyer and Brandon Puckett.
"We've just got to see what they can do," said Tabis. "We'll go week by week and see how they develop and improve."
As for the girls, Tabis was optimistic.
"Track is a sport of numbers, and this year we got them," he said, adding Logan Best, Jamie Gilden and Kelsey McClane are showing good numbers in the running events.
Returning state qualifiers include Shantelle McLinden, Quinn Wilson, Rachel Sweedmen, Kaila Forster in the 4x400 and 4x100 relay.
As a sophomore, Devon Hoyer qualified for state in high jump, along with Jessica Nelson.
"We've got Devon Hoyer in the hurdles, as is Kaila Forster," said. "Those girls are going to help us down the road," he said, adding Melene Sweet and Mechelle Wilson's names to the list.
"These are young girls who are showing some speed, and we haven't had that in the last few years. We'll see how they stack up against the rest of the girls in the conference."
In field events, the girls have been solid, according to Tabis.
"The girls have been great to work with," he said. "They are all working hard."
Tabis noted the snow has slowed down field events practising such as the pole vault and discus.
"If you threw it out there, I don't think you'd see it for a week," he said. "Same with the javelin, if you threw it flat you wouldn't find it until the snow melts."
Tabis added that currently five lanes of the track are cleared of snow thanks to Tony Rebo.
Libby's first home track meet is April 19, with their first meet this weekend in Columbia Falls.
"We're young - with 21 freshmen - we've just got to get these kids to compete in meets and find out about the events and themselves and see where it all fits in."
---