LHS tennis swings into action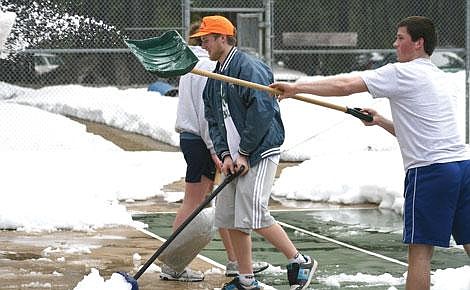 LHS tennis swings into action
by
Hope Nealson Western News
|
March 21, 2008 12:00 AM
Libby High School tennis coach Kyle Hannah began practice last week, with snow removal the top priority.
"It's our second day of hitting practice because we've been busy shoveling," said Hannah, who is in his third year as head coach.
After shoveling a foot and a half of snow off of six courts, the team began testing their serving skills last Tuesday.
The team, with three senior boys and three senior girls returning, will host its first match next Saturday, March 29 in Libby against Bigfork and Eureka.
"We're expecting to really compete this year and do well," said Hannah.
Sophomore Jackie Mee, who took fourth in state last year, returns along with senior Steven Hauck, who also qualified for state last year.
Hannah said he has a fairly young team of 27 players - slightly smaller than last year - but he isn't worried.
"There are a lot of kids participating in a lot of different sports right now," he said. "Participation is up total, so it's a good thing."
---