Year in Review: May through August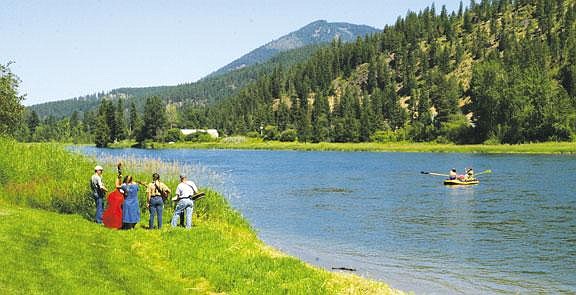 File/The Western News JULY: A group of musicians get together on the banks of the Kootenai River in July during Troy's inaugural bluegrass festival.
by
Brad Fuqua & Western News
|
December 31, 2008 11:00 PM
(Editor's note: This is the second of three stories reviewing Libby and Troy news of the past year. In this issue, read about events from May through August 2008. In the Dec. 31 edition, January through April was reviewed. A review of September through December will be published in Jan. 7 edition. Also, take note of the list of names that accompany this series. They are the friends, neighbors and relatives that we lost over the year).
MAY
• A fire on Minnesota Avenue in Libby killed 26-year-old Travis Anderson on May 2. Three others escaped, including a man who suffered a broken arm and ribs after jumping out of a window.
• Lincoln County Animal Control reported that at least seven dogs had been found shot and killed in Libby and one in Troy.
• Paula Darko-Hensler and Tony Rebo were elected to the Libby School Board. Darko-Hensler was appointed to the board in October 2007. Rebo garnered the most votes with 472.
• EPA data revealed that soil could be a prominent source of exposure to vermiculite. The research suggested that asbestos exposure comes mainly from contaminated soil outside of one's house. As a result, outdoor vermiculite could be tracked into homes on shoes or pets.
• The EPA awarded contracts to Environmental Restoration, Air Soil Water and Hudspeth and Associates for the right to compete in several Superfund remediation projects. Every five years, the EPA selects three contractors from a national pool. Those three then compete for separate projects.
• More than 200 bicyclists participated in STOKR on May 10. Cyclists chose between a short loop from Libby to Troy and a longer 100-mile route through the Yaak and back to Libby. Money raised went to Habitat for Humanity.
• Warm temperatures melting snow pack created high waters around Lincoln County. As a result, county crews had to keep a close eye on areas with potential for flooding.
• Eric Berry, project manager of Libby Lofts, died in a motorcycle accident outside of Kalispell. Berry played a crucial role in ongoing attempts to develop Libby's downtown area.
• The Troy School Board accepted a bid from Swank Enterprises for the construction of the Troy Activity Center.
• The Montana Judicial Standards Commission scheduled a hearing for Aug. 19-21 in Libby on the case of Gary Hicks. The Libby justice of the peace was accused of making inappropriate sexual comments to several women.
• Libby City Council raised concerns over the Streetscape project during a May 6 meeting. A working committee planned to iron out various details before moving forward.
• Libby High School's softball team won the Class A state championship in Bozeman with a 15-8 victory over Frenchtown.
• Libby Dam adjusted its releases to prevent flooding down the Kootenai River at Bonners Ferry, Idaho.
• Libby High School's Zack Rowan won the 400-meter dash at the Class A State Track Meet in Bozeman.
• Troy High School's Aaron Palmer won the high jump at the Class B State Track Meet in Bozeman.
• Libby High School held its graduation on May 31 with Riley Hoyer as valedictorian and Shelby Barton as salutatorian.
• Troy High School held its graduation on May 31 with Delsey Olds as valedictorian and Liz Straley as salutatorian.
JUNE
• Tony Berget won a six-way race for the Republican nomination for Lincoln County Commissioners during the primary election on June 3. Berget received 765 votes with Jerry Okonski second at 723.
• Jerry Bennett won the Republican nomination for state representative, District 1, with 76 percent of the vote. Democrat Timothy Linehan ran unopposed. In District 2, running unopposed were Republican Chas Vincent and Democrat Eileen Carney. The two will vie for the District 2 seat in November.
• Barack Obama got the most votes in Lincoln County in the Democratic primary for president. Obama got 1,160 votes compared to 889 for Hillary Clinton. In the Republican primary, John McCain got 1,857 votes with Ron Paul coming in at 844.
• The Montana Department of Environmental Quality and W.R. Grace & Co. reached a proposed settlement that would provide about $5 million to the state for asbestos cleanup in Libby.
• Libby funeral director Niles Nelson retired after 32 years.
• During a June Community Advisory Group meeting, concerns were raised over the spending of an $11.5 million federal grant provided to Lincoln County. Of the amount, $3.5 million was allocated to St. John's Lutheran Hospital to update infrastructure required to treat diseases related to asbestos poisoning while the other $8 million was set aside for economic and infrastructure development in Libby. CAG members argued that more money should be spent on victims of asbestos.
• The Incredi-Bull Blowout Bull Riding Contest was staged at J. Neils Memorial Park.
• Libby City Council approved the Streetscape project after Libby Main Street Program members pressed on whether or not it would move forward.
• EPA officials expressed frustration with ASW Associates, a remediation firm contracted to cleanup asbestos-contaminated sites for the Libby Superfund project.
• The U.S. Supreme Court rejected an appeal by W.R. Grace & Co., in a criminal case brought by the government over the company's alleged release of asbestos from the vermiculite mine near Libby.
• Forrest "Fuzzy" Spencer – believed to be one of Libby's last old-time loggers – died at age 85 in Libby. Ironically, Spencer died during the 50th annual Libby Logger Days celebration.
• Ella Ackley of Troy broke four state swimming records at the state Senior Olympics meet in Butte.
• Three teen-agers faced felony burglary charges following a break-in at Libby High School.
• Large chunks of vermiculite are discovered at Riverfront Park in Libby. The discovery was a mystery because the area had been cleaned three times. In the area where the Fred Brown Pavilion was to be built, the EPA found a six-inch wide, 50-yard long line of vermiculite. Officials could not explain how the vermiculite surfaced in that location. Contamination was also found at a soccer field at J. Neils Memorial Park.
• Libby School Board member John Hermann resigned.
JULY
• Logging truck driver John Stephenson of Sandpoint, Idaho, is seriously injured in an accident outside Libby. Stephenson was initially listed in critical condition but he steadily improved.
• A crowd estimated at more than 5,000 take part in the annual Fourth of July activities in Troy.
• Libby justice of the peace Gary Hicks sued Lincoln County to pay for his legal fees in the case against him that involves his alleged inappropriate sexual comments toward various women.
• The longtime tradition of Masons in Lincoln County fights for survival with fewer members attending meetings and the average age at around 68.
• Libby resident Luanne J. Graves, 34, dies in a one-vehicle early-morning accident on Kootenai River Road. A passenger in the car suffers minor injuries.
• During a meeting with Lincoln County commissioners, the EPA's Paul Peronard said serious questions existed on vermiculite found at Riverfront Park and on the J. Neils soccer field. "Our problem is that it got dumped out with some intent we think," Peronard said. A report was sent to both the EPA Office of Inspector General and the Criminal Investigation Division.
• A 67-year-old-man later identified as Larry Kingsley is killed at Sylvan Lake Campground in Kootenai National Forest. Heather Henson, 19, and Stephen Thomas, 17, faced charges in the shooting.
• Libby resident James Lee Willman, 53, dies in a collision with a semi-truck on Highway 2.
• The U.S. Fish and Wildlife Service designates an 18.3-mile stretch of the Kootenai River as critical habitat for the endangered white sturgeon.
• U.S. Sen. Max Baucus tours Asa Wood Elementary during a visit to Libby on July 18. School superintendent Kirby Maki and school board members share information with Baucus, who was pushing for funding for a new school. Earlier in the year, tremolite asbestos was found in the roof, ceiling and walls of Asa Wood.
• U.S. District Judge Donald Molly orders a status hearing in the criminal case against W.R. Grace & Co. All parties associated with the Libby asbestos contamination case were ordered to appear in his courtroom on Oct. 1.
• Troy stages its inaugural Kootenai River Bluegrass Festival with musicians coming in from around the Pacific Northwest. In the Libby area, the 12th annual Two Rivers Rendezvous attracts 100-plus participants who relish the opportunity to re-enact the lives of pre-1840 Americans.
• Libby High School's Zack Rowan and Jordan Gragert play in the 62nd annual East-West Shrine Game at Great Falls. Rowan catches a TD pass while playing for the West squad.
• A documentary chronicling Libby's devastation from asbestos poisoning receives a nomination for an Emmy Award.
• The Parmenter Fire ignites one-half mile southwest of Libby and comes close to threatening homes in the Woodway Park area. The fire is fully contained on July 30. The firefighting pricetag came in at around $1 million.
• A 21-year-old Massachusetts man jumps into the Kootenai River in the Swinging Bridge area and drowns on July 25. The body of Sam Sylvester, a college student at the University of Montana, was later found on Aug. 2.
• The fifth annual Kootenai River Rodeo in Libby bursts out of the chute at J. Neils Memorial Park.
• Wildlife officials relocate a grizzly bear to the Cabinet Mountains on July 24.
• The City of Libby issues several citations for high weeds, including to the city itself.
• The Yaak Wilderness Festival draws more than 300 people on July 26.
• James Rode, 23, of Libby dies when he is struck by a train west of town. Rode's body was discovered on July 30.
AUGUST
• Relay for Life returned to Libby for the second straight year with a marathon event that ran on Aug. 1-2. The event, which serves as a fundraiser to fight cancer, drew 270 team walkers.
• Dozens of Amtrak passengers are stranded in Libby for part of the day on Aug. 4 after a Burlington Northern Santa Fe Railroad derailment about 45 miles east of Libby.
• St. John's Lutheran Hospital in Libby announced its intentions to build a new hospital within the next two years. The hospital's board of trustees unanimously voted in favor of the project.
• The Kootenai River drowning that occurred in July raised questions of safety for U.S. Forest Service and Lincoln County officials. The two agencies favored erecting warning signs.
• Lincoln County commissioner Rita Windom announced her resignation for Sept. 30. Windom's seat did not expire until January 2009.
• The Troy Mud Bogg brought dozens of drivers to Troy on Aug. 9. The event serves as a fundraiser for the Troy Volunteer Fire Department. Over in Libby, the Carson & Barnes Circus entertained at J. Neils Memorial Park.
• The Libby American Legion baseball team qualified for the state tournament. After winning their first two games over Lethbridge and Dillon, the Loggers fall to host team Vauxhall and then to Lethbridge.
• During a visit on Aug. 8 to Libby, U.S. Sen. Jon Tester vowed to help the Center for Asbestos Related Disease find money to continue operations. The clinic found itself in a challenging financial situation with dwindling resources. Tester also visited Troy and talked with officials there about needs involving the town's water distribution system.
• The EPA discussed early mine sampling with the community on Aug. 12. Officials weren't sure how to interpret the data and said testing is expected to go on for years.
• Montana Fish, Wildlife and Parks relocated a second grizzly bear to the Cabinet Mountains.
• Ignite the Nites, an annual event staged by the Igniters Car Club, took over Libby. The most popular event appeared to be "Cruising the Gut" on the Friday evening of Aug. 15.
• The EPA's Paul Peronard, Libby team leader, transitioned into another job and officials began the process of replacing him.
• Stimson Lumber Co., in Libby issued layoff notices and closed down its finger-joint operation. The move was expected to impact pellet supplies.
• Heather Henson, charged with deliberate homicide in the campground shooting of Larry Kingsley, entered a not guilty plea on Aug. 18.
• Construction work on the Troy Activity Center was well under way this month with the pouring of cement, backfilling and erection of frost walls.
• The Montana Judicial Standards Commission heard testimony in the case of Libby justice of the peace Gary Hicks. The five-member commission yielded no immediate decision in the case of Hicks, who was accused of offering leniency to female defendants in exchange for sex.
• In a report in the American Journal of Industrial Medicine, Dr. Alan Whitehouse penned a report that an epidemic of mesothelioma will descend upon Libby in the next 10 to 20 years as a result of asbestos exposure.
• The Libby City Council denied a variance request in the case of pit bull owner Barbara Turner. A city ordinance prohibits the dog breed inside city limits. Turner indicated that she may fight the decision by asking the council to consider repealing the law.
• A report showed that nine of 13 schools in Lincoln County failed to meet federal standards in reading and math this year. The lone school in Libby or Troy to meet "Adequate Yearly Progress" standard was Libby Middle School.
• Three members of Lincoln County justice of the peace Gary Hicks' staff went on administrative leave on Aug. 22.
• A U.S. Forest Service tree-thinning crew discovered a pipe bomb on Swede Mountain on Aug. 24. A bomb squad later detonated the bomb.
• The New Horizons Learning Center, an after-school program in Troy, organized for the coming school year. The program got off the ground after receiving a 21st Century Grant.
---