School gives Libby teacher special sendoff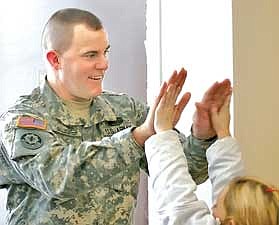 Canda Harbaugh/The Western News A student high-fives Staff Sgt. Tom Gallagher on his way out the door after Friday's school assembly. Gallagher, a teacher at LMS, will be deployed to Iraq in January.
by
Canda Harbaugh & Western News
|
December 28, 2008 11:00 PM
Present and past students swarmed around Tom Gallagher – laughing, hugging, crying – all bidding him "Good-bye," "Keep safe" and "Come home soon."
Staff Sgt. Gallagher, clad in a camouflage uniform, stood outside Libby Middle School after an assembly honored his unit, the Montana Army National Guard's 639th Combat Support Company.
Last Friday's school assembly gave an emotional sendoff to Gallagher and nine of his fellow soldiers, who will be deployed to Iraq on Jan. 4.
Two of Gallagher's former students, freshmen Audryana Allyn and Ashley Sonju, wore T-shirts that read, "We love you Mr. Gallagher." They remained upbeat as they spoke to him after the assembly, but had to wipe away tears.
Gallagher was their geography teacher and regiment leader last year. Under the eighth-grade community service program, Gallagher's regiment raised money for breast cancer, organized a food drive and picked up litter.
"He made everything so much fun," Sonju said, "and he pushed us to be better people."
"He's amazing," Allyn added. "My favorite teacher ever."
This will be Gallagher's second tour in Iraq and should last "no more than 400 days," he said.
After Gallagher introduced the soldiers during the assembly, their relatives were asked to stand with them. The war in Iraq became more tangible as one-by-one, children, spouses and other loved ones stepped down the bleacher stairs and joined the men and women in uniform.
Gallagher's wife, Kristi, a sixth-grade teacher, and his sixth-grade daughter, Devon, stood with him, and they looked on as choir students sang "America the Beautiful."
Gallagher's unit will be engaged in three missions – water, fuel and warehouse – involving receiving and issuing supplies.
Gallagher will be "running a fuel farm," which will involve managing and dispensing high-grade fuel to run military equipment.
In his first tour, from December 2003 to March 2005, Gallagher delivered nearly 3 million gallons of fuel to different locations in Iraq.
"We were traveling all over the country," said Gallagher. "At least we won't have to worry about roadside bombs like before."
Gallagher is hopeful that this mission will be safer.
"Compared to what we did last time, this is better. This will be easy compared to before. But anytime you're in Iraq …," Gallagher trailed off.
"We made it once before," he added. "We can do it again."
---