Hoops Preview: Trojans return plenty in attempt to move up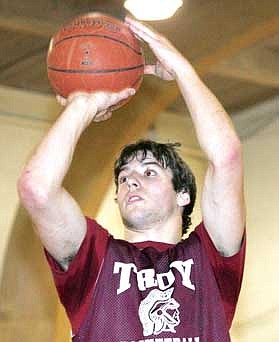 Paul Sievers/The Western News Aaron Palmer led Western B in scoring last season at 19.4 ppg.
by
Brad Fuqua & Western News
|
December 8, 2008 11:00 PM
Through 33 years of basketball in various positions and levels at Troy, Tony Smith has experienced just about everything on the hardwood.
So, when he talks about the best he's ever coached in any particular facet of the game, people should take notice.
"We've got a pretty good balance at guards and forwards," Smith said about this year's Trojan boys basketball team. "In fact, we probably have the best inside-outside team that I've ever coached in terms of shooting the ball from the outside."
Troy has built a reputation over the years as a team that can get the ball inside. The Trojans also have historically approached the game in a half-court sense. But this time around, don't be surprised to see THS do a little running and gunning.
"I've always believed that we defend in the half court and take care of the ball in half court because most of your press and full-court stuff doesn't work by tournament time," Smith said. "This year, because we do have more depth, kids can come off the bench and give us quality minutes."
The Trojans return four of five starters from last year's team that finished 8-15. Leading the way is senior Aaron Palmer, who led all of Western B in scoring last season at 19.4 points per game, was called by his coach as the "premiere player in the league." Those numbers earned the 6-foot-2 Palmer a spot on the all-state team.
Jesse Day (6-0, Sr.), Shado Garrett (6-3, Sr.) and Clayton Kyriss (5-8, Sr.) are the other three returning starters.
"We've got great balance this year," Smith said. "I'd like to think we can have three or four kids in double figures every night – given that balance."
Brian Hammrich (6-3, Jr.) and Dalton Powell (6-0, Sr.) will contribute to Troy's inside presence. Jake Alexander (5-8, Jr.), Brandon Rebo (5-10, Sr.), Steph Jones (5-10, Sr.), Scotty Harper (5-9, Sr.) and Dillon Curry (6-2, Jr.) round out the varsity roster.
"We have several seniors that have been in the program since the eighth grade and I think that's having an effect on what we're trying to do this year," Smith said. "We're trying to push the ball more … we're going to play more at 90 feet and get people in the full court. Because we have more depth, we can create a more up-tempo game, which has not always been my forte."
In all, the state of Troy boys basketball appears bright with 33 student-athletes out for the team.
The Trojans hope to break into the upper echelon of the district and progress further than last year.
"I think it's very balanced. There's not much separation between first and last," Smith said about the 7-B district. "If we stay healthy, make good decisions in and out of the classroom and work hard as a team, I think we'll be as good as anybody in the league. I think we should be an upper-tier team given our experience coming back."
Thompson Falls, the school that ended Troy's season this past February at the Western B Divisionals, has been dominant over the last couple years. Smith said Plains should also be pretty good with an all-state player coming back to its roster.
The Trojans open the season Friday and Saturday at a tournament in Plains. Troy will battle Valley Christian at 3 p.m. Friday and the Helena junior varsity at 4:30 p.m. Saturday.
Varsity Schedule
Dec. 12    Valley Christian#    3 p.m.
Dec. 13    Helena JV#    4:30 p.m.
Dec. 18    Thompson Falls    4:15 p.m.
Dec. 20    Superior    3 p.m.
Dec. 22    Plains    4:30 p.m.
Jan. 3    at Noxon    1:30 p.m.
Jan. 9    at St. Ignatius    4:30 p.m.
Jan. 10    Arlee    3 p.m.
Jan. 15    Libby    4:15 p.m.
Jan. 17    at Eureka    1:30 p.m.
Jan. 22    at Thompson Falls    4:15 p.m.
Jan. 24    at Superior    1:30 p.m.
Jan. 30    Noxon    4:30 p.m.
Jan. 31    at Plains    1:30 p.m.
Feb. 6    St. Ignatius    4:30 p.m.
Feb. 7    at Arlee    1:30 p.m.
Feb. 13    at Libby    4:15 p.m.
Feb. 14    Eureka    1:30 p.m.
# Plains Tournament
Note: District Tournament scheduled for Feb. 20-21 at Libby. Divisional Tournament scheduled for Feb. 25-28 at Pablo. State Tournament scheduled for March 12-14 at Bozeman.
---