Hoops preview: New coach takes over Troy girls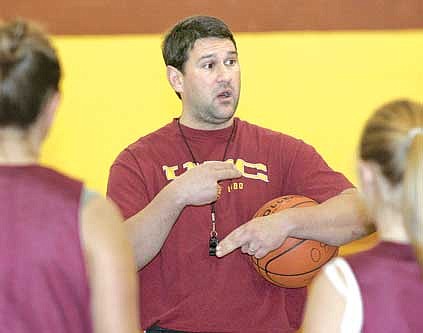 Paul Sievers/The Western News New head coach Cory Andersen chat with his Lady Trojans.
by
Brad Fuqua & Western News
|
December 8, 2008 11:00 PM
Calling the Troy High School girls basketball team "young" is not an understatement.
The Lady Trojans head into the season with a new coach in his first varsity role and a starting lineup that could include three sophomores. One of the few players that has experience is senior Molly Harpole, a second-team all-district pick a year ago.
Harpole is the only returning full-time starter for first-year coach Cory Andersen. Among those the Lady Trojans lost were first-team all-district pick Delsey Olds and honorable mention choice Liz Straley.
Both Allie Maestas and Cassidy Hand were part-time starters for last year's team that finished 8-10.
"We do not have a lot of height so we're a fairly short team but pretty scrappy," said Andersen, who had some coaching experience in Wallace, Idaho. "Defensively, I think we'll be pretty good."
Andersen admits the offense will need some work. He hopes to see the Lady Trojan defense keep opponents in check until the offense can get into a rhythm.
"We have some strong defensive players," Andersen, a former hoops official, said. "So, we'll try to hold teams down and not let them score too much. If we can do that, I think we'll be in most of our games."
When the Lady Trojans run their offense, fans should expect some intense action up and down the court.
"I think what we're doing is more fast-paced," said Andersen, who replaced Troy DeBoard as head coach. "Some of the girls, I think, have to get used to the tempo and speed of practice."
Lady Trojan coaches saw 19 student-athletes sign up to play basketball this year. Andersen said he will run varsity and junior varsity teams but will not have a "C team."
As for the district, Andersen said it appears that Eureka will be pretty good.
"From talking to the girls, it sounds like Eureka might be one of the stronger teams," Andersen said. "And Mission (St. Ignatius) is usually a scrappy team. Those two and Thompson Falls are probably at the top. Our idea is to try to break through and get up among those top two teams."
Troy opens the season Friday and Saturday at a tournament in Plains. The girls will face Valley Christian at 4:30 p.m. Friday and then hook up with Noxon at 3 p.m. Saturday.
The Lady Trojans will make their home varsity debut on Dec. 18 against Thompson Falls in what could be a key early-season contest.
Troy will want to try to rack up some victories in the early season. Six of the first eight games will be played on the home court. The Trojans have a tough road stretch from Jan. 17-29 with four straight away from Troy.
Varsity Schedule
Dec. 12    Valley Christian#    4:30 p.m.
Dec. 13    Noxon#    3 p.m.
Dec. 18    Thompson Falls    4:15 p.m.
Dec. 20    Superior    1:30 p.m.
Dec. 22    Plains    3 p.m.
Jan. 3    at Noxon    3 p.m.
Jan. 9    at St. Ignatius    3 p.m.
Jan. 10    Arlee    1:30 p.m.
Jan. 16    Libby    4:15 p.m.
Jan. 17    at Eureka    3 p.m.
Jan. 22    at Thompson Falls    4:15 p.m.
Jan. 24    at Superior    3 p.m.
Jan. 30    Noxon    3 p.m.
Jan. 31    at Plains    3 p.m.
Feb. 6    St. Ignatius    3 p.m.
Feb. 7    at Arlee    3 p.m.
Feb. 12    at Libby    4:15 p.m.
Feb. 14    Eureka    3 p.m.
# Plains Tournament
Note: District Tournament scheduled for Feb. 20-21 at Libby. Divisional Tournament scheduled for Feb. 25-28 at Pablo. State Tournament scheduled for March 5-7 at Hamilton.
---